Fanon article ownership
This fanon page was created and is owned by
Plumbbobparadise
(
talk
). Unless the edit is constructive and/or minor (such as fixing a template), please do
not
edit this page unless given permission from the author.
Margaret Plumb

Biography
Margaret has always had trouble making friends. Will her move to a new town change all that?
Name
Margaret Plumb
Gender
Female
Age
Elder
Life state
Ghost
Plumb family
Parents
Nigel Plumb, Carolyn Finney
Sibling(s)
Nathan Jolina-Plumb 
Lifetime wish

| | |
| --- | --- |
| | Professional Author |
Favorites

 Classical

 Autumn Salad
 Lilac
Appearance
Hair color
 Red
Eye color
 Blue
Skin color
 Light
Body shape
 Thin
Margaret Niamh Plumb (NEEV) was, in her day, Sunset Valley's most renowned author. She was also one of the most prolific. She wrote a total of twenty-seven novels, mostly in the science-fiction and fantasy genres.
Though Margaret Plumb is associated with Sunset Valley, where she built her career, she actually spent her early years in the bucolic farming community of Riverview. Born somewhere in England (the exact location is still disputed) to Nigel Plumb and his then-wife, Carolyn Amanda Finney, she emigrated as a young girl with her family. Since her parents were nearly complete polar opposites, they argued nearly daily, and often in front of her. In addition, since Carolyn never wanted a child to begin with, she treated Margaret quite poorly, a fact Margaret repeated in her unfinished autobiography. She seemed to find fault with the child constantly, teasing her for her red hair, glasses, and freckles. On the other side of the ledger, Nigel adored his daughter and showered her with gifts and affection. Margaret's life was not much better at school, either. She was bullied relentlessly because of her shyness, her red hair, and her family's poor economic status. She only had one friend at school -- ironically, it was Skip Broke.
It was at this time that Margaret discovered an outlet for her isolation - books, something that would carry her through her entire life.  Through books she could escape to another place, inside her mind.  Margaret spent most of her free time at the Wright Reading Room in Riverview, hoping to get a glimpse of her favorite writer at the time, Constance Shelley.  It is unknown if Ms. Shelley ever met young Margaret.  It was also here, at the Wright Reading Room, where she would hone the craft of writing and learn how to write.
Just before Margaret turned teen, her parents divorced. This event had a profound impact on her as it necessitated her move to Sunset Valley with her father. She never saw her mother again.
The Plumbs' move to Sunset Valley turned out to be beneficial in several ways. First, it enabled Nigel to move on from his painful divorce and find some measure of comfort and peace. Second, and most important, it enabled Margaret to begin her writing career in earnest. As a teenager Margaret managed to juggle her schoolwork and a part-time job at Divisadero Budget Books, the local bookshop. In addition, she made several clumsy efforts at storytelling, writing short stories and improving her skills. Her first novel, Paloma of Plumbob Farm, was published while she was still a teenager. A modest success, Paloma got Margaret's 'foot in the door,' so to speak. Two sequels, Paloma of Plumbob Palace and Paloma of Plumbob Manor, were published in Margaret's late teens. She was earning a steady income from writing, her job at the bookstore, and making high marks in school. She had no time or desire for a social life. It didn't take long for her to become the actual family breadwinner.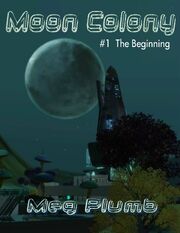 Margaret's writing career began to take off into her young adult years. She was able to quit her part-time job at the local bookstore, while at this time she was writing the series of books for which she is most famous, the six Moon Colony novels. In these books, the half-alien protagonist, Syna (pronounced like 'sheena') DeLorean, leads an expedition to found a colony on the moon. (As of this writing the first Moon Colony book is being optioned into a movie.) She also wrote a long fantasy series (6 books) about a mystical princess in a distant kingdom. She wrote most of her books under the pseudonyms Meg Plumb or Meg Finney (her mother's maiden name). When her father passed away, Margaret did not remain in the farmhouse, as he had hoped. Instead, with her earnings she purchased a house near the beach, on the cliffs of Sunset Valley. Margaret was very upset when her half-brother Nathan began dating Holly Alto, who at the time was much older than he was and one of her classmates. Holly Alto, being a patron of the arts, bankrolled much of Nathan's early musical career. Holly's pregnancy with the much-younger Nathan became a scandal. The ill-fated romance resulted in a son, Noah, who died tragically as a young adult, shortly after his mother.
She had only slightly better feelings about the woman who would become Nathan's wife, Shandra Bellingham, a Twinbrook-born classical pianist who was in the orchestra with him.  She felt Shandra to be a 'witch,' even though she knew the recipe for ambrosia and wasn't a witch in the truest sense.
The only known romantic relationship in Margaret's life was a brief dalliance with Malcolm Landgraab when both were elders.
Margaret never married and did not have children.
Margaret penned her most financially successful books during this time, as her skill level allowed her to write longer books in different genres. She dabbled in romance with The Scrapbook, a novel she later said she "hated"; however, the money she earned from it made her financially secure for the first time in her life. With this newfound wealth she was able to purchase the bookstore at which she worked during her teens, and she also devoted herself fully to writing. She wrote and researched a history of her family, the Plumbs, through three generations in Sunset Valley; and finally she wrote a masterpiece novel, The Longest Shadow. She began writing an autobiography but never completed it.  Margaret died in the bathroom of her brother's house, holding a book in her hand. She was 95 days old.
In her will she surprised everyone by leaving her entire fortune to her half-brother Nathan's daughter, her then-teenaged niece, Savannah, who later honored her by naming her first-born daughter after her. Two of her great-nieces, Sierra and Kaydence, have followed behind her by publishing science fiction novels of their own.
Margaret Plumb may not have done much talking with her mouth, but she did plenty of it with her books, leaving behind a legacy that is still relevant today.  Fittingly, Savannah is in charge of Margaret's estate and her catalog of books. 
Margaret maxed writing and logic during her lifetime. She also had 9 cooking and 8 handiness skill.
At the peak of her writing career, she was earning nearly $40K weekly.
Her half-brother, Nathan Jolina-Plumb, was born when she was in her late teens. Though she was an introspective loner, she always made time for him and his children.
Margaret was a Sim made in CAS
At the time of Margaret's death, Nathan's other child, Sebastian, was a toddler. 
Margaret left her entire fortune to her teenaged niece, Savannah.  The two were very close.
The original character did not wear glasses.
Community content is available under
CC-BY-SA
unless otherwise noted.