Lisa Vandermorgan

Name
Lisa Vandermorgan
Gender
Female
Age
Young Adult
Life state
Human
Education and Employment
Career
Doctor
| | |
| --- | --- |
| Aspiration |  Big Happy Family |
Appearance
Hair color
 Blonde
Eye color
 Blue
Skin color
 Light
Body shape
 Thin
Other Information
Game
The Sims 4
Playability
Playable
World
Oasis Springs
Lady Lisa Petunia Vandermorgan
 (also known as
Dr. Lisa Vandermorgan
) is a sim living in Oasis Springs. She is the older sister of Kim Vandermorgan, younger half-sister of Jedd Vandermorgan, daughter of Danielle and Ezra, adoptive granddaughter of
Ariana
, adoptive niece of
Maxwell Vandermorgan
, adoptive cousin of Maxzajita, and adoptive great-granddaughter of
Lyla
 and
Don Lothario
 and aunt to Micheal, Miley and Ethan She is similar to Lisa Simpson from The Simpsons, especially as she has a complicated frienship her older brother, and a great relationship with her younger sister, not to mention that like Lisa, she is a middle child. Lisa is the current holder to the Vandermorgan fortune, home, and cafe ownership after her older brother's death.
Biography
Edit
Lisa was conceived after Danielle and Ezra became engaged, and was born just after their wedding. Lisa wasn't a fussy baby, hardly ever crying. She grew up to have a good and bad relationship with her half-brother, and became very excited to become a big sister to young Kim. Lisa became a teenager on the same day as her grandmother Ariana died. When her parents become elderly and unable to care for the home, Lisa becomes the owner and is given the right to own the home, money, and business. Lisa began dating someone from work, Jake Manuel, and ended up becoming pregnant with his child. After a successful date, Lisa proposed to Jake on the balcony, and he accepted. Jake takes her last name during their wedding. After an excruciating labour where she struggled to get admitted to a short staffed hospital, she gave birth to Chance at home. Lisa later comes in for a shock, after discovering Jake was having a homosexual affair, Jake and Lisa divorce, devastating Lisa. Lisa decides to start dating "real men" and not "cheating maniacs". Lisa also changes her look and personality. Lisa flies into a deep depression after the divorce, and even plans to run away, fake her death, and leave Chance with Kim, until Kim stops her. Lisa has become more cheerful now. To celebrate her divorce, Lisa throws a party, but later Jake comes unannounced, however before Lisa can notice him, Chance asks Jake to leave. Chance makes a friend named Caroline Cruz at school, and Lisa meets her, as well as Caroline's single father Marc. Lisa falls in love with Marc, and Marc falls in love with her (at first only for her money, but later truly loves her). Lisa tries her best to get along with Carolina, but fails as she decides to keep her own last name. Marc and Lisa later marry, where at the wedding she meets Marc's older sister Annabeth and nephew Floyd. Lisa and Chance get off to a bad start with Caroline (who decides to keep her last name) as she begins acting hostile to the pair, until Marc talks her round, now Lisa and Chance have a good relationship with Caroline. Lisa later gives birth to a daughter, naming her Aphrodite, just after Kim has her son Ethan.
Appearance
Edit
She seems to have gotten most of her appearance from her mother, funnily, her maternal half-brother looks more like her father, even though they are not related.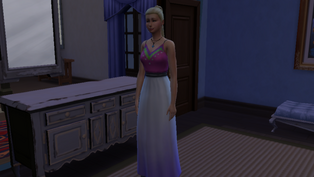 Lisa is skilled in Gardening. Charisma, Comedy, Cooking, Fitness, Photography, and Video Gaming.
Community content is available under
CC-BY-SA
unless otherwise noted.