Fanon article ownership
This fanon page was created and is owned by multiple users. Unless the edit is constructive and/or minor (such as fixing a template), please do not edit this page unless given permission from one or more of the owners.
Owners: WikiBuilder1147 (talk) · K6ka (talk)
·
OpelSpeedster
(talk)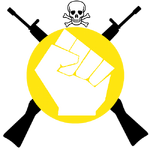 The Liberation Army was a paramilitary organisation established in 2150 by Harry Miller, Ben Faulkner, Miami Hodgson and Alexander Townsend intended to overthrow the Federal Government. Founded upon the principles of democracy and equal human rights, the Liberation Army aimed to depose what they believed to be a tyrannical authoritative leadership.
The Liberation Army was ultimately controlled by Supreme Command (officially known as the Liberation Army Supreme Command Authority, abbr. LASCA). The LASCA was composed of the Liberation Army's top commanders, led throughout the Liberation War by General Harry Miller, who was Supreme Commander of the LA. The LASCA met once a month to discuss major matters concerning the Army and the War. In June annually Supreme Command would meet in a special assembly known as Congresses, similar to the quarterly meetings of the Liberation Governance Council.

The Liberation Army Land Forces was the older of the two main divisions of the Liberation Army, and consisted of the LA's land units. These included infantry and mobile artillery forces. The LALF was personally led by Supreme Commander Miller.
The Liberation Army Air Force was founded upon the capture of 3 Government airships, which subsequently became the Redemption, Distinction and Liberator. Besides the airships, the LAAF had possession of hundreds, then thousands of fighter planes which were used to bombard enemy installations and cities. LAAF fighters also regularly engaged in combat, frequently participating in dogfights with Government planes.
Community content is available under
CC-BY-SA
unless otherwise noted.