Fanon article ownership
This fanon page was created and is owned by
Orangeguy99
(
talk
). Unless the edit is constructive and/or minor (such as fixing a template), please do
not
edit this page unless given permission from the author.
Fanon of Preexisting Sim
This page is about a preexisting Sim in a fanon setting. This article should not be treated as an canon article. For information about the canon Sim, visit here:
Caryl Zarubin (Sim State University)
Leah Miguel

Gender
Female
Age
Adult
Life state
Sim
Education and employment
Alma Mater
La Fiesta Tech
Major
Art
Year
Graduated
Career
Comic Book Penciler
Family
Family/Families
Shaw family
Parents
Annette Miguel, Jerry Miguel
Marital status
Dating
Romances
Blair Seavey , Mitch Shaw 
Children
Audrey Shaw , Liam Shaw 
Household
Pets
Jake
Personality
Zodiac sign
Cancer
Aspiration
Family
Lifetime want
Graduate 3 Children from College
Appearance
Hair color
Blonde
Eye color
Green
Skin color
Tan
Body shape
Thin
Other information
Game
The Sims 2
Playability
Playable
Neighborhood
Belladonna Cove
Write a Review!
Leah Rose Shaw (née Miguel) is a sim residing in Belladonna Cove with her husband Mitch and his daughter Audrey, and their son Liam. She is the daughter of Annette and Jerry Miguel.
She has a puppy named Jake.
Life leading up to The Sims 2
Edit
Leah was born in Belladonna Cove to her parents Annette and Jerry. Growing up she was described as kind, considerate, and social. She was described as creative.
Leah never had any serious relationships in her teen years. Art was one of her passions. Despite the field not being very lucrative, she decided to go to art school.
College Years
Edit
Leah enrolled at Sim State University as an art major. Not happy with her life at Sim State University, she transferred to La Fiesta Tech her sophomore year. It was there she met and befriended Mitch Shaw. She was immediately smitten with him, although he was engaged at the time. Despite her crush, the two decided to remain friends. However, Leah butted heads with Mitch's fiancee, Jeanette. For his sake, the two attempted to tolerate each other.
Despite her tumultuous relationship with Jeanette, Leah was happy when she found out Jeanette and Mitch were expecting. She later started dating Blair Seavey. However, Mitch and Jeanette made the decision to separate a few months after the birth of his daughter. But Leah still had feelings for him.
Leah graduated Summa Cum Laude.
Adulthood
Edit
Leah and Blair broke up shortly after the one-year mark, although Mitch was now dating college student Eileen Tinsley. Upon graduation she rented an apartment in Belladonna Cove and took a job as a comic book penciler. By graduation, Mitch and Eileen ended their very short-lived relationship. She invited Mitch over to show off her new apartment. With both of them now single, he decided to make his feelings for her known. The two wound up spending the night together and began dating.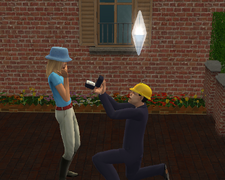 After a year of dating, the two moved in together. Things were going great as Leah progressed in her art career. As Audrey was on the cusp of childhood, Mitch spontaneously proposed, and Leah accepted. Audrey had reached her childhood by the time their wedding came. The two were married at Central Park, and then embarked on their honeymoon in Takemizu Village.
Upon return Leah discovered she was pregnant. During her maternity leave she became closer friends with Eileen, her husband's ex-girlfriend. After 9 months, Leah and Mitch's son, Liam, was born.
Community content is available under
CC-BY-SA
unless otherwise noted.