Ladah-Agnetha Lyngstad
Name
Ladah-Agnetha Lyngstad
Biography
Ladah-Agnetha Lyngstad is the youngest daughter in the family. She adores her family and their idols, Dmitry Koldun and Agnetha Fältskog from "ABBA"! Maybe, it makes Ladah-Agnetha to singer of year?
Age
Child
Life state
Sim
Education and Employment
School
Elementary School
Grade
A-
Zodiac sign
 Gemini
Lifetime wish

| | |
| --- | --- |
| | Golden Tongue, Golden Fingers |
Favorites

 Pop
 Spaghetti with Veggie Sauce

 Pink
Appearance
Hair color
 Black
Eye color
 Blue
Skin color
 Light
Body shape
 Thin
Appearance
Hair color
 Black
Eye color
 Light Blue
Skin color
 Tan
Body shape
 Thin
Other Information
Game
The Sims 4
Playability
Playable
World
Willow Creek
Ladah-Agnetha Lyngstad (rus. Лада Чумакова) is a сharacter series of games "The Sims". She resided, during her lifetime, in Sunset Valley, one of the neighborhoods that ships with the games. She is the daughter of Oksana Lyngstad and Michael Lyngstad, both of Sunset Valley; she has a sister, Ana. She is the youngest daughter in this family.
Ladah-Agnetha was born after 4 years, when in 1996, her older sister was born. She is the second of two daughters of mechanic Michael and his wife, storekeeper Oksana. Her mother other is amateur musician. Ladah-Agnetha is the resident of the city closed, so she and unsociable. From 6 years old, Ladah-Agnetha loves creativity of Dmitry Koldun, her favorite dish is spaghetti, color is pink. But Ladah-Agnetha have cool attitude with her father and older sister. Ladah-Agnetha is only friendly with her mother.
Photos of the family
Edit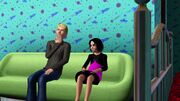 Community content is available under
CC-BY-SA
unless otherwise noted.