Fanon article ownership
This fanon page was created and is owned by
NY22Giants22
(
talk
). Unless the edit is constructive and/or minor (such as fixing a template), please do
not
edit this page unless given permission from the author.
The King family is a family created by NY22Giants22. All members of the family currently reside in Pleasantview. The family consists of money-obsessed Gary King, his shy, nurturing ex-wife Steph King, and their two daughters, Quinn and Alicia.
The King family appeared to have a happy, close-knit family, until Gary was caught cheating on his wife, Steph, with Brandi Broke. Gary was kicked out and now lives with his new wife, Lucy Hanby. Quinn is currently dating Alexander Goth.
Gary is the only son and child of George and Lynn King. Steph is the daughter of Derek and Daesha Greenfield.
Heritage
George King is of an English and Greek background. Lynn King is of an Irish background.
For the heritage of Steph and her family, see the Greenfield family.
Onomatology
King: Means "tribal leader"
George King (Gary's father): Means "farmer"
Lynn King (Gary's mother}: Means "from the lake"
Gary King: Means "the spear ruler"
Steph King: Short for "Stephanie" meaning "crown"
For the onomatology of Steph's family, see the Greenfield family
Quinn King: Means "descendant of Conn"
Alicia King: Means "of noble kin"
Family tree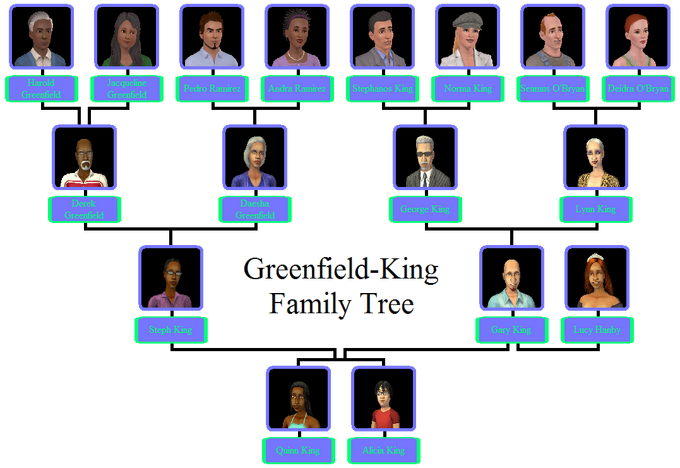 Members
Photo Album
Community content is available under
CC-BY-SA
unless otherwise noted.