Fanon article ownership
This fanon page was created and is owned by
Orangeguy99
(
talk
). Unless the edit is constructive and/or minor (such as fixing a template), please do
not
edit this page unless given permission from the author.
Kevin Tinsley

Biography
Kevin is the near-opposite of his twin brother. Cunning, charming, he's the life of the party.
Name
Kevin Tinsley
Gender
Male
Age
Adult
Life state
Sim
Aspiration
 Romance
Lifetime want

| | |
| --- | --- |
| | Have 6 Pets Reach the Top Career Level |
Chemistry
Turn ons
 Black Hair
 Fitness
Turn off
 Full Face Makeup
Appearance
Hair color
 Brown
Eye color
 Green
Skin color
 Light
Body shape
 Thin
Other Information
Game
The Sims 2
Playability
Playable
Neighborhood
Bluewater Village
Kevin John Tinsley is a sim residing in Belladonna Cove.
Kevin is the son of Christina Holland and Adrian Tinsley. He is also the cousin of Eileen Tinsley. He is best friends with Logan McIntyre.
Early Life
Edit
Kevin was born in Desiderata Valley to his parents Adrian Tinsley and Christina Holland, along with his twin brother Jacob. Contrary to his brother, Kevin was described as being a very outgoing kid. His parents married a few months prior to his birth, although they had an unstable relationship. The two fought constantly and consequently divorced when Jacob and Kevin were around 7 years old.
Teen Years
Edit
Christina and Adrian continually fought over custody of their children, causing Kevin to grow more distant towards his mother.
He decided to attend college at Sim State University with his brother Jacob.
College Years
Edit
Freshman Year
Edit
Kevin arrived at college although he didn't immediately declare a major. He drifted through freshmen year focused on more social pursuits. It was during freshmen year that he met a girl named Donna Zaidi. The two soon began dating afterwards, although they had a rocky relationship from the start. After about 6 months of dating, Kevin started getting flirty with a girl who lived in his dorm, Nikki. Not thinking, the two soon ended up WooHooing and then ended up starting a secret relationship. It wasn't long before Donna found out and dumped him.
Sophomore Year
Edit
However, his relationship with Nikki continued into sophomore year. Kevin and Donna reconnected, now having been broken up for a few months. Nikki became jealous, seeing that the two still had feelings for one another. He soon broke up with Nikki for him and Donna to get back together. But unsurprisingly, him and Donna ran into the same problems. They soon broke up again.
Kevin later befriended his dorm-mate, Logan.
Kevin continued on, barely passing his midterms. He soon befriended Britney Greaves, a friend of his ex-girlfriend Nikki. The two got on well and had obvious chemistry. Kevin and Britney soon began dating.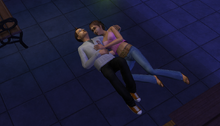 Junior Year
Edit
His relationship with Brittany continued into junior year. They decided to take a vacation, with Jacob and his girlfriend, Kendra. During this vacation, Kevin fell in love for the first time, as did Britney. After the vacation, Kevin proposed to her, and she excitedly accepted.
Jacob later moved out of the dorm so he and Kendra could move in together. Meanwhile, Kevin befriended his classmate Margaret Wilsonoff. It wasn't long before he developed a crush on Margaret. Deciding to be honest, he told Britney. Her reaction pleasantly surprised him: she was okay with it, and revealed she also had a crush on someone else. They got to talking, and mutually agreed they could each see one other person on the side. After explaining all this to Margaret, she decided to give this arrangement a try, and began dating Kevin.
Senior Year
Edit
Kevin and Margaret soon broke things off due to her jealousy. Kevin and Britney also began to argue more. The two took a vacation to Twikki Island to relax. However once they arrived back to SSU, Britney broke off the engagement. She realized she wasn't ready to get married, leaving Kevin devastated. After dealing with Margaret's jealousy, she couldn't see herself tied down.
A sulking Kevin went to Belladonna Cove to shoot some pool. Before he left he stopped at the local grocery store for a snack, where he met Sandy Smith. The two soon became friends. Sandy made a pass at him, although Kevin rejected her because he wasn't looking for anything serious. He later returned to Belladonna Cove again, where he met and struck up a conversation with Jessica Peterson. The two ended up having a one-night stand and began seeing each other casually.
In dealing with the fallout of his breakup with Britney, Kevin got academic probation and had to repeat the last semester of his senior year. Him and Sandy also continued to be flirty with each other however. Kevin soon started seeing her as well, although he soon ended things with Jessica in an effort to focus on finishing school.
Adulthood
Edit
Upon graduating Kevin rented an apartment on the outskirts of Bluewater Village, despite it being slightly over his budget. He quickly got a roommate, Gordon, and took a job at the grocery store in Belladonna Cove. There he met the store manager Fanon:Diane Shahan (Orangeguy99) and the two became friendly with each other.
Sandy soon broke things off with Kevin, as she didn't see a future with him. After attending Jacob and Kendra's wedding, Kevin decided to take a break from dating; he did eventually want something serious, although he hadn't met the right person yet. In the mean time, him and Diane formed a genuine friendship outside of work. She began hanging out with him and Logan. It wasn't long before Logan noticed Diane's crush on Kevin. With a little encouragement, Kevin eventually asked her to dinner, and the two were soon a couple.
Community content is available under
CC-BY-SA
unless otherwise noted.