Fanon article ownership
This fanon page was created and is owned by
Orangeguy99
(
talk
). Unless the edit is constructive and/or minor (such as fixing a template), please do
not
edit this page unless given permission from the author.
Kendra Aubrey

Name
Kendra Aubrey
Age
Adult
Life state
Witch
Education and Employment
Alma Mater
Sim State University
Major
Philosophy
Year
Graduated
Career
Waitress
Zodiac sign
 Taurus
Aspiration
 Knowledge
Lifetime want

| | |
| --- | --- |
| | Max Out 7 Skills |
Chemistry
Turn ons
 Facial Hair
 Logical
Turn off
 Fitness
Appearance
Hair color
 Brown
Eye color
 Green
Skin color
 Light
Body shape
 Thin
Other Information
Game
The Sims 2
Playability
Playable
Neighborhood
Belladonna Cove
Kendra Ruth Aubrey-Tinsley is a sim residing in Belladonna Cove with her husband, Jacob Tinsley.
She is the daughter of Rita and Duncan Aubrey.
Early Life
Edit
Kendra Aubrey was born to her parents Rita and Duncan in Pleasantview. Growing up, she was described as optimistic and inquisitive.
Freshman year of high school, Kendra met and fell for Dalton Chandler, a guy a grade above her. The two shared a strong connection and had a lot in common. However, their relationship wasn't without its issues. The closer Dalton got to graduation, the more he realized their relationship had an expiration date. The two split up when Dalton went to college.
College Years
Edit
Freshman Year
Edit
Kendra decided to attend Académie Le Tour. It was only a matter of time before she ran into Dalton and his now-girlfriend, Eileen. The two reconnected and started a friendship, although Kendra had ulterior motives. She still had feelings for Dalton. She was always a bit flirty towards him, although he never reciprocated. But this began to wear away at his relationship, until him and Eileen broke up.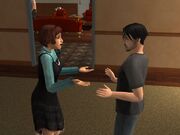 Later at a frat party, both Kendra and Eileen attended. Dalton and Eileen were drawn to each other, although Kendra kept trying to pull him away. At one point during the party, after one too many cups of juice, she tried to kiss him. Eileen saw her about to kiss him and left the party, visibly upset, before she could see Kendra get rejected by Dalton. Kendra began to accept that nothing further would happen between her and her ex.
Sophomore Year
Edit
Kendra later began a fling with her classmate Houston Landchild. She finally moved on from Dalton, although the relationship only lasted a few months due to their incompatibility.
About halfway through sophomore year, Kendra met Jacob Tinsley and the two instantly hit it off. They soon began a long-distance relationship (as he was attending Sim State University but came up to visit his cousin). Although it was Jacob's first relationship, the two clicked incredibly well, and Kendra knew she found the man of her dreams. It was revealed that he was Eileen's cousin.
Junior Year
Edit
When Junior year started, Kendra heard that Dalton and Eileen had gotten back together. Although that initially made things awkward, the two continued their relationship. Now that Kendra was totally over Dalton, the drama between her and Eileen (and Dalton) was ancient history.
Kendra still hadn't declared a major, and the registrar declated her as a Philosophy major.
At the start of second semester, Kendra transferred to Sim State University and moved in with Jacob. Their relationship took a backseat as both focused on their studies. However, it paid off as they had both made the Dean's List at the end of junior year.
Senior Year
Edit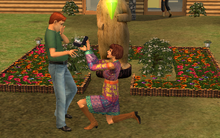 To celebrate their high grades, Jacob and Kendra took a vacation to Three Lakes. During this vacation, Kendra proposed. Jacob obviously accepted. Little did Kendra know that he had also been planning to propose, but she beat him to it.
Kendra also became interested witchcraft as she began to progress throughout her senior year. Out at the library one day she happened to meet and befriend Phoebe Adams, the grand high witch. After much convincing, Phoebe agreed to teach Kendra the secrets of witchcraft.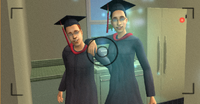 Kendra graduated with a philosophy degree.
Adulthood
Edit
Jacob and Kendra also chose to move to Belladonna Cove, renting an apartment above Dalton and Eileen's. Both her and Jacob took jobs in the culinary field to make extra money for their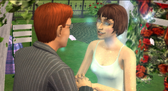 wedding. A few months later the two were wed in a small ceremony in
Bluewater Village
.
Despite their high chemistry and Kendra not being a Romance sim, she has a negative memory of getting engaged to Jacob.
Community content is available under
CC-BY-SA
unless otherwise noted.