Judith Eleanor Ward-Villareal is a former five star celebrity Sim residing in StrangerVille. Judith is a notoriously difficult yet famous actress with an awful reputation. Judith has one biological daughter, Morgan, and her adopted triplets Aja, Thomas, and Jay. Judith is in the eight level of her acting career. Morgan, to everyone else except from Judith, is thought to be adopted. Even Morgan has no clue of the truth, but Judith became pregnant early in her career and to hide the scandal passed her child off as adopted. However the public are starting to become more suspicious of the ruse, due to Morgan's rising fame and growing public image making people more aware of her incredible resemblance to Judith. As revenge for her own starlight being dimmed, Judith kidnapped her granddaughter Trinity Ward.
Biography
Edit
Judith was born to Eleanor and Clark Ward, the couple's only child. Judith became an actress as a young adult, and later started an affair with older entepreneur Chester Landgraab, the father of Judith's close friend Nancy. The affair was brief but Judith ended up pregnant with Chester's child. Realising this could ruin both her reputation and Chester's, Judith hid her pregnancy through elaborate lies and gave birth to her daughter Morgan in secret. Judith later claimed she had adopted baby Morgan from a poor family. Morgan was rarely seen in public, and when she was people noticed her incredibly close resemblance to Judith and became suspicious. To continue her adoption lie, Judith adopted triplets for real as a way to get the public off her back. As the children got older they all discovered their dreams, which Judith funded. Aja wanted to be a rapper, Thomas a sports star, and Jay an artist. Judith tried to subliminally sway Morgan away from fame, knowing fine well that people would see through the adoption lie due to their resemblance. Morgan became an online presence, starting her YouTube channel and recording her own music. Morgan started to get recognition due to her debut single "In Quiet", which was a huge hit in Del Sol Valley. Judith accepted Morgan's rising star status, but despaired as due to her rising profile, the old conspiracy theory of Morgan being biologically Judith's daughter came about once again. Judith told Morgan the truth in private, which lead to a slight falling out, but the pair reconciled eventually.
With Morgan now in the know, Judith decided to confirm the news with Chester. Chester and Judith briefly restarted their love affair, with Judith realising that Chester was her true love all along. Chester however passed away after suffering a massive heart attack. Judith was left heartbroken. Judith moved on with
Jacques Villareal
, marrying him in a whirlwind romance and moving out of her home, leaving Morgan to care fore the house and triplets.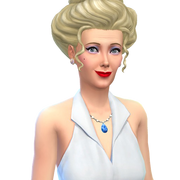 Judith was left widowed not long after her marriage, however she isn't as phased as she was when Chester passed away. Judith was left to care for Jacques's three children, angering her. Judith is present when Morgan gives birth to her own daughter Trinity Ward. Soon, Morgan's fame eclipses Judith's and she gets a star on Starlight Boulevard. Judith is green with envy, having worked her entire career to get a star while Morgan is still young and relatively new to the scene. Judith's adopted daughter Aja also begins a successful music career as a teenager and begins to find herself fame. Angry at Morgan and Aja for eclipsing her fame, Judith is left unhinged. She kicks the Villareal children out of the house and steals Trinity from Morgan in the dead of night. Morgan's career begins to suffer due to the loss of her child, and Judith acts the part of the concerned grandmother before moving from the Villareal mansion and moving to a remote area in StrangerVille with Trinity. Judith hired a live-in nanny named Nelcelle Brown to help raise Trinity, but threatened her into secrecy.
Judith's adoption lie about Morgan is based off the old Hollywood actress Loretta Young, who became pregnant by Clark Gable in the 1930s and passed off her daughter (co-incidentally also named Judith) as adopted to avoid the scandal. The ruse was later discovered and was made public knowledge some years later.
Judith could be based off of actress Joan Crawford, who much like Judith, had adopted many children and was notoriously a difficult actress to work with.
Community content is available under
CC-BY-SA
unless otherwise noted.