Jennifer Rogers was an adult Sim from Willow Creek who worked in the business career as a stock market investor. She was the daughter of Carson Rogers and Bianca Black, and had a twin brother named John.
Early life
Edit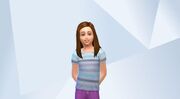 The story of John and Jennifer dates back to Bianca Black's first pregnancy, which occurred when Carson Rogers was in the process of selling his parents' house. Both of the twins were born nine months after the sale was announced, with John being older by six minutes. Both John and Jennifer lived with Carson up until shortly before kindergarten, when Bianca had enough money to sell her apartment. As a result, Carson was able to obtain enough money to relocate the household to a small house in Willow Creek, where both kids went to grade school.
Jennifer was a brown haired girly girl when she entered Landgraab Elementary as a first grader. She loved to chat with fellow people from her grade level; however, some of those students touched her long brown hair vigorously. Those complaints caused her to seek help; however, she became a straight A student in the fifth grade.
Throughout middle school, more complaints emerged about other students touching Jennifer's hair, and there was no way that it could be stopped from that point.
Secondary education
Edit
Once she completed her middle school education, Jennifer was assigned to Buckingham High, where she began taking classes in the ninth grade.
Jennifer then began a career as a babysitter during non-school hours. Once she learned that she got the job, she decided to dye her hair blue and cut it into a pixie in order to stand out against the other high schoolers. This, along with the amount of makeup she put on her face except when she was sleeping, made her known as the blue-lipsticked girl no one had ever seen in Buckingham High's history. She would be promoted to a daycare assistant in a short amount of time thanks to her moderate charisma and her active metabolism. The success she had in her career as a babysitter would result in her becoming a straight-A student in all of her classes. Just before Jennifer graduated high school, she announced that she would no longer be a babysitter after rejecting several offers related to her proposed pay.
Business career
Edit
Jennifer decided to become a businessperson after her graduation from high school. She would immediately begin working as an assistant to the regional manager of the Willow Creek division of Dewey, Cheatem & Howe Incorporated, and began building logic skill shortly thereafter via the microscope. Her main goal is to become an investor in the Sims Stock Market, which requires her to be promoted from the company's senior managerial position. 
Jennifer began dating fellow high school classmate Morgan Blanchard early in her job. The relationship started out rocky due to tensions between Carson and Morgan's mother; the former told Jennifer that she should never date Morgan so that she could focus more on her promotion activities. She came into the business world sporting a quiff in her blue hair, making her one of the most fearless women to ever work for the company in a long time. During her career as a junior manager in the company, Jennifer began upgrading her charisma and logic skills, eventually garnering enough skill to become a senior manager and then a stock market investor. Upon hearing of the news, she told her family that this was the best job opportunity no one ever remembered. Jennifer was ultimately able to repair her relationship with Morgan, and ultimately became his girlfriend.
Once Jennifer moved in with Morgan Blanchard, she took care of Morgan's mother, Breanne Blanchard, for the last few weeks of her life; she had retired as a painter a while ago. Shortly afterwards, Breanne died of natural causes; Jennifer would get promoted to an investor shortly afterwards. In the observatory of Morgan's home, she discovered that she was pregnant with David Rogers Blanchard; she never took any family leave and continued to work during her pregnancy. Once David was born, Carson and Bianca became grandparents for the first time; Jennifer realized that it was the happiest thing that she ever encountered. A short while afterwards, she ranked up in the logic and charisma skills, and eventually had a second son named Wilson Blanchard. Both sons continued to diverge in different ways while Jennifer was improving in her logic and charisma skills in her quest to become the president of the Sims Stock Market, a position equivalent to an angel investor. Shortly after Jennifer became a corporate raider, David Rogers Blanchard became a teenager. At that point in time, David opted to transform into a girl known as Davina Amethyst. Davina is the first transgender woman to ever be part of the Rogers-Black family, as the technology to make a sim transgender was not possible back when Carson and Bianca were in college. Bianca and Carson both died midway through Davina's adolescence and approximately halfway through Wilson's childhood.
Later life and death
Edit
Morgan and Jennifer became elders once Davina graduated from high school. Jennifer continued her career as a stock market investor (and briefly served as the stock market's president) until she was diagnosed with Lewy body dementia shortly after Davina passed the midpoint of her young adult stage. As a result, Jennifer was forced to retire from her position, and her health began to gradually deteriorate from that point. Shortly after Davina's young adult stage ended, Jennifer died of a heart attack that was caused by the Lewy body dementia. This shocked Wilson and Davina, who both depended on her for help during their teenage years.
Community content is available under
CC-BY-SA
unless otherwise noted.