Jenna Kane

Biography
Jenna Kane came in as a complete nobody, and within a week took the town of Bridgeport by storm as a mortal, and continues to do so as one of the creatures of the night.
Name
Jenna Kane
Gender
Female
Age
Young Adult
Life state
Vampire
Education and Employment
Career

Film
Kane family
Parents
N/A
Sibling(s)
None
Romances
None
Child(ren)
None
Zodiac sign
 Libra
Lifetime wish

| | |
| --- | --- |
| | Lifestyle Of The Rich And Famous |
Favorites

 Custom
 Pink
Appearance
Hair color
 Blonde
Eye color
 Green
Skin color
 Light
Body shape
 Fit
Other Information
Game
The Sims 3
Playability
Playable
World
Bridgeport
Jenna Kane is a Currently Well Known Actress currently living in Bridgeport. Winner of Supporting Female Role on a TV Show in the Sims Choice Awards, and Currently a center of controversy, but she did not come in being the talk of a town. Jenna Came to Bridgeport with quite a sum of money and a dream.
Life As A Mortal
[
]
Everyone has to start somewhere, and for Jenna it was at the bottom of the film career. In her work she met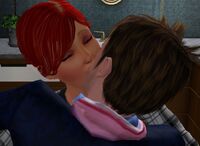 Emmy Star, and through her she began to get known around town. One thing for certain is that every night she is out hitting the trendiest clubs in Bridgeport, mostly hittin' up The Grind. Soon, Jenna would meet Devin Ashton, who would be her first ever love in her life. After a few weeks of working behind the scenes, she becomes ready to step from behind the camera and onto.... the small screen. Before she ever makes her TV Debut, she meets a "Yes-Man" named Johnny Jones, who also happens to be a vampire. Johnny would be the first Vampire that she befriends, and also the one who bites her.
Life As A Vampire
[
]
A couple days afterwards, The Transformation was complete. Jenna Kane had become what she is today, the most well known Vampire in all of town, perhaps the world. From There, she debuts on the show "When I Get Closer" as Reby. That is the role that earns her the award of Best Supporting Actress in a TV Show. Then things take a turn for the worse for Jenna. Before her award win, she had cheated on Devin Ashton with a female by the name of Matilda Smart, who she turns Vampire. She kept it behind Devin's back, even when the two had gotten engaged. Word had gotten out that Jenna was in fact cheating on Devin with Matilda. The Couple had broken up the day afterwards. Then some person had spread false rumors about her salvaging trash cans. For those two events she had lost most of her friends. She had gained some of her friends back after clearing up the false rumor.