Fanon article ownership
This fanon page was created and is owned by
Orangeguy99
(
talk
). Unless the edit is constructive and/or minor (such as fixing a template), please do
not
edit this page unless given permission from the author.
Jeanette Couderc
Name
Jeanette Couderc
Jeanette Straight

Biography
Being nice, considerate, caring, are all things Jeanette doesn't bother with.
Name
Jeanette Straight
Gender
Female
Age
Teen
Life state
Sim
Education and Employment
School
Grade School
Grade
C
Appearance
Hair color
 Black
Eye color
 Hazel
Skin color
 Dark
Body shape
 Thin
Other Information
Game
The Sims 3
Playability
Playable
World
Riverview
Jeanette Couderc

Biography
Jeanette came a long way from the sleepy town of Riverview to escape her strenuous relationship with her parents. What opportunities await her now that she's on her own?
Name
Jeanette Couderc
Gender
Female
Age
Adult
Life state
Sim
Zodiac sign
 Aries
Aspiration
 Fortune
Lifetime want

| | |
| --- | --- |
| | Become Chief of Staff |
Chemistry
Turn ons
 Facial Hair
 Black Hair
Turn off
 Stink
Appearance
Hair color
 Black
Eye color
 Brown
Skin color
 Dark
Body shape
 Thin
Other Information
Game
The Sims 2
Neighborhood
Belladonna Cove
Jeanette Lucille Coud (née Straight) is the adoptive daughter of Kirsten Straight and Sally Hustev, and is the adoptive sister of Tristan Straight.
Jeanette appears to favor Sally over Kirsten, since she and Kirsten were enemies. She also has a good relationship with her brother.
She has one child from her marriage to Mitch, Audrey. Jeanette is enemies with Leah Miguel, a student with an crush on Mitch.
High school couple Lashonda Harmon and Tyler Holt were seemingly like any typical high school couple. Doting on each other all the time, but also having a fair shair of fights. Then Lashonda discovered her pregnancy. Tyler freaked out. 4 months into Lashonda's pregnancy, the couple agreed to give the baby up for adoption, realizing they couldn't take care of a baby. Lashonda and Tyler found a nice couple to adopt their baby, two women named Kirsten Straight and Sally Hustev. She had a rocky pregnancy, but she gave birth to a perfectly healthy baby girl, who they named Jeanette. Shortly after Jeanette's birth, Lashonda and Tyler split up.
Jeanette was shown lots of love and attention. Both her parents worked but they always found a way to make time for her. Even her brother, Tristan, helped care for her.
As Jeanette learned to walk and talk, she began to wear her parents out. She especially tested Kirsten's patience as she began to get a better grasp on Simlish. However, Kirsten did her best to keep her calm composure.
As Jeanette entered grade school, her relationship with Kirsten worsened. Her patience was tested, and she developed a hatred for her mother. Kirsten always tried to repair their relationship, to no avail. She began to act out.
By now, Tristan had moved out to go take care of their ailing aunt June. Jeanette, now in high school began to hang out with her rebellious party-animal neighbor, Tiffany. The two became fast friends, much to the chagrin of both of Jeanette's parents. However, she also started seeing Dirk Moon, a junior. Although he was older, he treated Jeanette the way a woman should be treated, and her parents approved of their relationship. Jeanette even kept up with her schoolwork as well; it was her one ticket to getting out of this tiny town.
However, Jeanette began an affair with her friend Gary, who she started officially dating after Dirk found out and broke up with her. However, drama soon ensued. Tiffany began to openly flirt with Gary in front of Jeanette when the three were hanging out. After finding out that Gary kissed her, Jeanette dumped him. Tiffany and her were soon in a fight; their friendship was over by the end of it.
Jeanette still had a strained relationship with Kirsten, and chose to go to a school far away. She was accepted into La Fiesta Tech. There were so many possibilities, she wasn't sure what to do. Just deciding to ride it out for a bit, and get a feel for things, she remained undeclared. During this time period, she struck up a romance with Mitch Shaw, one of the residents of her dorm.
As the year went on, the two fell for each other. Jeanette had never been in a relationship this long. Sophomore year, Mitch surprised Jeanette with a trip to Takemizu Village. To her surprise and delight, he proposed. The two were now engaged.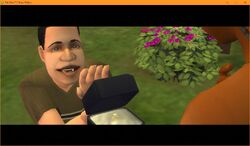 Jeanette later declared the biology major, and became more responsible as her college years went on.
Second semester of sophomore year, Mitch realized college wasn't for him. Second semester of sophomore year, he dropped out to Jeanette's chagrin. That wasn't the only reason she was mad at him. Mitch befriended a student named Leah Miguel, who obviously had a crush on Mitch. Jeanette began to despise her, despite him remaining faithful, and the two were sworn enemies. For her fiancé's sake, they tried to keep this rivalry to themselves. As if things couldn't get worse, she had received a phone call from Tristan telling her that her mother, Kirsten, had passed away. Jeanette hadn't spoken to her in three years, and only went to her funeral for her other mother's sake.
Upon graduation, Jeanette moved in with Mitch and his roommates. The two married shortly after and enjoyed a honeymoon in Twikkii Island. After staying with Mitch's roommates for a short time, the two rented their own apartment, and Jeanette found work as a nurse. But things weren't exactly smooth between them. Tension continued to build over Mitch's friendship with Leah, even though she was now dating someone else, local townie Blair Seavey. Then, Jeanette found out she was pregnant. Her qualms with her husband would now have to be put aside, for they were going to be parents.
They hit another temporary snag, when Mitch was demoted at work. However, Mitch went into work one day, coincidentally the day Jeanette went into labor. Mitch, through a bit of negotiation, managed to got his old job back. But he had to leave and meet his wife at the hospital. Audrey was born later that day.
Parenthood only made the couple more irritable. A few months later during a fight, an exasperated Mitch admitted he had feelings for Leah. This prompted Jeanette began an affair with Matthew, her upstairs neighbor, unbeknownst to Mitch and Matthew's wife, Caryn. However, her husband soon found out, and Mitch and Jeanette made the decision to divorce. However, Jeanette did manage to earn a promotion shortly before the divorce, and moved into a townhouse after it happened. Mitch retained custody of Audrey. Her and Matthew continued casually seeing each other for a few more months. Jeanette wanted to start a real relationship, although Matthew called things off; he no longer wanted to divorce his wife.
Later after that, Jeanette went to play pool with her friend, Parker. She met and hit it off with Dalton Chandler. The two had quite a spark, and wound up woohooing on the first date. They continued seeing each other after and began officially dating. But drama ensued. On a double date with him and his friend, Eileen, she discovered she was Mitch's new girlfriend. While they continued seeing each other, it took a hit to their relationship. After discovering that Dalton and Eileen used to date, she decided to break up with him.
Jeanette continued to focus on her career, and soon secured herself a position as an intern at the local hospital. Another surprise entered her life. Her ex-lover, Matthew, had recently gotten divorced and moved into the same apartment complex. Although it was initially awkward, the two still had that mutual attraction to one another. They soon began seeing each other, this time officially. However, they once again didn't last. Her coworker, Ifran, had planted a kiss on her. Although they never went any further, this was enough for Matthew to break up with her.
Jeanette soon found herself promoted to resident. She took a short break from dating, and started hanging out with her friend Parker more often. She soon began to develop feelings for him. After Mitch's wedding to Leah, Jeanette, feeling alone & vulnerable, wound up WooHooing with Parker. Despite that the two soon began dating. Luckily for Jeanette, she found herself in a stable relationship for once, with the two eventually moving in together, purchasing a house along Belladonna Cove's coastline. What's more, the two quickly tied the knot after moving into their new house, deciding to elope.
Jeanette's relationship with her daughter Audrey had substantially improved as well. Her rocky marriage to Mitch, and him retaining primary custody after their subsequent divorce, led to Jeanette initially being distant towards her daughter. When Audrey entered high school Jeanette made an effort to be active in her life, although it wouldn't be until her college years that the two genuinely began to grow close. By then, Jeanette had snagged another promotion, becoming a General Practitioner.
Despite the fact that both Jeanette and Tristan have the Mean spirited trait, Jeanette appears to be meaner than Tristan. This is rather ironic since she has the Good trait and Tristan doesn't.
Unlike with Tristan, the identity of Jeanette's biological parents is known.
Jeanette's "biological mother", Lashonda Harmon, was one of the maids in Riverview.
Community content is available under
CC-BY-SA
unless otherwise noted.