Fanon article ownership
This fanon page was created and is owned by
Orangeguy99
(
talk
). Unless the edit is constructive and/or minor (such as fixing a template), please do
not
edit this page unless given permission from the author.
Jacob Tinsley

Name
Jacob Tinsley
Age
Adult
Life state
Sim
Zodiac sign
 Capricorn
Lifetime want

| | |
| --- | --- |
| | Become Hall of Famer |
Chemistry
Turn ons
 Glasses
 Brown Hair
Turn off
 Cologne
Appearance
Hair color
 Red
Eye color
 Green
Skin color
 Light
Body shape
 Fat
Other Information
Game
The Sims 2
Playability
Playable
Neighborhood
Belladonna Cove
Jacob Andrew Tinsley is a sim residing in Belladonna Cove. He is the son of Christina Holland and Adrian Tinsley, and the twin brother of Kevin Tinsley. He is also good friends with his cousin Eileen Tinsley
He is married to Kendra Aubrey
Early Life
Edit
Jacob was born in Desiderata Valley to his parents Adrian Tinsley and Christina Holland, along with his twin brother, Kevin. Jacob was described as an intelligent kid although he was really shy. Jacob's parents married a few months prior to his birth, although they had an unstable relationship. They fought constantly and subsequently divorced when Jacob and Kevin were around 7 years old.
Teen Years
Edit
Christina and Adrian continued to argue over custody of their two children. Jacob and his mother began to grow more distant. He also never pursued any relationships in high school, being too scared from his parents' divorce to do so.
Jacob decided to attend Sim State University with his brother Kevin.
College Years
Edit
Freshmen Year
Edit
Jacob arrived at college with Kevin, and soon declared the physics major.
He reached out to his cousin, Eileen, for advice about college. This prompted the two to become close, almost like brother and sister.
Sophomore Year
Edit
His new friendship with Eileen also caused him to reexamine his views towards relationships; Auntie Bev and uncle George were still going strong. Eileen and her boyfriend were happy together, and were still good friends after they split. About halfway through sophomore year, Jacob took the hour-long cab ride to Académie Le Tour to visit Eileen. It was during that visit he met Kendra Aubrey. The two hit it off and soon began a long-distance relationship. Although this was new to him, he knew then that he found the woman of his dreams.
As his relationship with Kendra progressed, the two learned their lives were more intermingled than they first thought. She dated a man named Dalton Chandler, who just so happened to be Eileen's ex as well. Kendra figured this, due to Jacob and Eileen having the same last name and a similar appearance. When junior year came, Jacob later found out that Dalton and Eileen got back together. While this made his relationship with Kendra slightly awkward at first, they continued seeing each other. Now that she was completely over Dalton, all the drama with her and Eileen was ancient history.
Junior Year
Edit
Things with Kendra were going well. They decided to take a vacation with Kevin and his girlfriend, Britney. During that vacation, Jacob and Kendra agreed they should move in together, despite it being a bit early. Jacob focused on school and soon made the Dean's List.
Second semester, Kendra transferred to Sim State University and rented a house with him. While their relationship took a seat so both of them could focus on their studies, it paid off. They both finished out junior year with an A, both having made the Dean's List.
Senior Year
Edit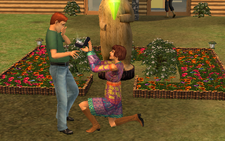 To celebrate their high grades, Jacob and Kendra took a vacation to Three Lakes. During this vacation, Kendra proposed to Jacob, who accepted. Little did she know, Jacob revealed he had also been planning to propose. She beat him to it. He was surprised, Kendra was the only woman he'd been with, and he couldn't have imagined that someone would ask him to marry them. After accepting her proposal, Jacob made a resolution: he was gonna loose the weight.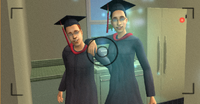 During their senior year, Kendra got involved in witchcraft and the magical arts. Despite being a more science-oriented person, this piqued Jacob's interest.
Jacob graduated with a physics degree.
Adulthood
Edit
Jacob and Kendra also opted to move to Belladonna Cove. The two ended up renting the apartment above Dalton and Eileen's. Jacob and Kendra took culinary jobs in the interim to make extra money for their
wedding. Three months later the two were wed in a small ceremony in
Bluewater Village
.
A couple years later Jacob briefly returned to his hometown for his mother's wedding. To his surprise, she apologized to both him and Jacob, for her constantly fighting with their dad. She admitted they should've split up way sooner than they did. It was a start to the twins patching things up with her.
Community content is available under
CC-BY-SA
unless otherwise noted.