Fanon article ownership
This fanon page was created and is owned by
XXxCrazyThingXxX
(
talk
). Unless the edit is constructive and/or minor (such as fixing a template), please do
not
edit this page unless given permission from the author.
IJess Banzeroid

Biography
'''
Name
IJess Banzeroid
Gender
Female
Age
Adult
Life state
Normal
Banzeroid family
Parents
Sajone Banzeroid, Jazz Banzeroid
Sibling(s)
Jaijon Banzeroid, Rozita Banzeroid
Romances
Michael Bachelor 
Child(ren)
Harry Banzeroid, Lerzo Banzeroid , Sandara Banzeroid , Jezzena Banzeroid , Isa Banzeroid , Zinar Banzeroid 
Lifetime wish

| | |
| --- | --- |
| | Surrounded by Family |
Favorites

 Classical

 Tri-Tip Steak

 Spiceberry
Appearance
Hair color
 Red
Eye color
 Black
Skin color
 Green
Body shape
 Thin
One day, when she was a teenager, iJess brought home Michael Bachelor. She fell in love with him, but she also had a small crush on Stiles McGraw, despite Stiles being older than her. One day her grandfather, Trock, died of old age. Craj soon joined him. The family got the OMGhost Opportunity, however I did not do it as then, I didn't understand it. When iJess became a young adult, I'd finally figured out how to get them in a better relationship. She woohooed with Michael before he moved in (I didn't know how then!) and she had two children: Sandara and Jezzena. Eventually she got in a steady relationship with Michael and then later she married him. She moved in with the Bachelors, but Michael wasn't Bachelor anymore - he was Banzeroid. One day iJess was a bit worried about her parents - they were elders and would have died by now. She moved back to her old house, but Sajone and Jazz were gone - only her younger siblings were there. She knew her parents were dead, and she and Michael decided to buy their own house. When Jezzena was a child, the two decided they wanted another child, so Michael called the Adoption Agency, and got Harry, who was then a toddler. Jezzena, despite stealing candy from him sometimes, loved her new little brother a lot. Sandara also loved Harry, but Jezzena did more. Michael and iJess were worried about becoming elders because they'd die of old age, and they wanted each other to die much less than they wanted themselves to die - and they feared that. They made a lot of wishes on the Fountain of Youth (which I got the money for with cheats) until they reversed to the start of Adulthood. Then they tried for a baby - but two babies were born - Isa and Lerzo. Sandara was a Young Adult by now and she wanted to marry her boyfriend, Shadow Darcnus (his last name, if you were wondering, is a pun on darkness, because of his very dark looks - dark grey skin, red eyes, black and red hair), so after going to the Theatre together she proposed to him. Later they had a private wedding, and Sandara and Shadow later had a baby - Xavierr Banzeroid. iJess doesn't really know her grandson well. Soon, iJess had another son - Zinar Banzeroid.
Between all of this, iJess had written three books - a fiction called "Marry Me", a biography of Jaijon (from an opportunity) called "My Younger Brother," and a drama from an opportunity, which she called "Fulfilled" (it was a little bit after completing her lifetime wish). iJess loves her children - she doesn't care how much she has! Recently, iJess completed Lucky Ducky, and is now starting a biography of her grandson, Xavierr Banzeroid!
I'd like this page to be edited by others so you can fix it up. Also, feel free to ask about her and her family.
Her name is supposed to sound like she listens to a lot of pop music on an MP3 with earphones, which is ironic actually because she doesn't listen to much pop - she prefers classical.
She should be an elder but she wished for youth on the fountain.
Only Sandara and Zinar share her skin and hair colour; however Isa's hair colour genetics come from iJess's parents.
She's not seen the Grim Reaper since her grandmother's death, because she's only ever witnessed her grandparents' deaths.
Although she is a Couch Potato and Michael is Athletic and these traits conflict, she still loves him more than children love sweets.
Her name is supposed to be iJess not IJess or Ijess.
Questions and Comments
Edit
You can ask about iJess and her family and tell me what you think of her.
Questions about iJess
Edit
How did you come up with the name iJess Banzeroid?
Oh, when I was making her family at first, she was a teenager. I wanted to make a crazy family, so I gave them the last name "Banzeroid," and I decided a good name for a crazy teenaged girl would be iJess.
Hey iJess! I just wanna know do you plan to stay as an elder one day? --Fanboy123 03:40, February 27, 2013 (UTC)
Well, I don't really want to, but maybe when all my children move out, I might let myself be an elder and adopt some kids... I want to be young forever... I think it's just because I don't want to let myself die of old age.
And one more thing. Why do you keep wanting to have kids after kids after kids? Dont you tired of it? --Fanboy123 00:31, February 28, 2013 (UTC)
Well, I've not actually had any kids since Zinar, who is a teenager now. All the others are young adults, and Sandara even has her own kid. But since I'm family-oriented, I love kids. When Harry was a teenager, I thought that, to complete my lifetime wish, I actually needed another baby - Harry was a toddler when Michael and I adopted him, so I didn't think it would count. Also, when all my kids have left the house - getting married, having children, I want to adopt five babies, and raise them to teenagers (like I could complete my lifetime wish twice; but that's not the reason...). But maybe I shouldn't - eleven kids isn't really something to be proud of, society will think I'm quite... I don't know a good word for it. Still, I will help my kids raise my grandchildren if they turn out to be an only parent; if the child's other parent dies or leaves. But well... I never get tired of even the most pestering kids.... Sorry you have to read so much...
Opinions on iJess
Edit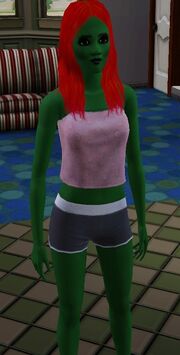 Community content is available under
CC-BY-SA
unless otherwise noted.