Fanon article ownership
This fanon page was created and is owned by
DarkSuicune2000
(
talk
). Unless the edit is constructive and/or minor (such as fixing a template), please do
not
edit this page unless given permission from the author.
Hall Family

Description
The Hall family was created by Nia on her 15th birthday. All Nia thought is that they were virtual specs of code on a screen, but it turns out that their something more.
Name
Hall Family
Members
Chastity Hall, Arthur Hall, Maverick Hall, Fiona Hall, Blair Hall
Number of generations
2 generations
Family connections
Lagana family
Syde family
Lot
378 Skyborough Boulevard
Funds
§15,400
Difficulty level
The Hall family consists of working parents Chastity and Arthur, their teenage son and daughter, Maverick and Fiona and their toddler son Blair.
History
The Hall family are a family created by Nia Toadstool. The earliest known ancestors are Juniper and Tobias Hall, the parents of Heathcliff Hall. Not much is known about them, except Juniper died of a deadly disease and Tobias is still alive, but needs assistance due to his old age.
Family tree
Members
Gallery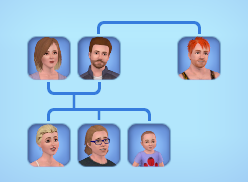 Trivia
Maverick, Fiona, and Blair do not know that Corridor exists. Arthur and Chastity pretend they don't remember him.
When Nia created them Chass and Arthur were Young Adults, Maverick was a child, Fiona was a toddler, and Blair wasn't born yet.
This family was the first family Nia created.
They, along with other families reside in Nia's Sim World.
Community content is available under
CC-BY-SA
unless otherwise noted.