Fanon article ownership
This fanon page was created and is owned by
Micah-l-lucas
(
talk
). Unless the edit is constructive and/or minor (such as fixing a template), please do
not
edit this page unless given permission from the author.
Goth family

Description
A creative family, Alexander and Ella decided to raise their children in the Spice District of San Myshuno. But after dealing with noisy neighbors and a growing family, the couple decides to relocate to StrangerVille. How will the move affect Ella and Alexander's relationship, and most of all, their children?
Name
Goth family
Members
Alexander Goth, Ella Goth, Dylan Goth, Cody Goth, Peter Goth, Holden Goth, Red
Number of generations
2 generations
Lot
Creek Corner Cove
Funds
§40,026
Other information
Game
The Sims 4
Playability
Playable
World
StrangerVille
Write a Review!
The Goth family consists of Alexander Goth, his wife Ella Goth, their four sons Dylan Goth, Cody Goth, Peter Goth, and Holden Goth, and their dog Red. The family originally resided in Willow Creek before moving to San Myshuno, and then moving again to StrangerVille.
Goth residences
Edit
The first residence of the Goth family was Ophelia Villa in the neighborhood of Pendula View in Willow Creek. The home is a black gothic manor with three bedrooms and two bathrooms, mostly furnished with red upholstered furniture. The master bedroom of the home was inhabited by Mortimer Goth and Bella Goth, the second-largest bedroom by Cassandra Goth, and the smallest by Alexander Goth. During the time they spent in the home as a couple, Alexander and his wife Ella Lawlor slept in the smallest room on the top floor. Though the two were not married during the time they lived there, they moved out when they began making plans to start a family.
Ella and Alexander moved into an apartment in San Myshuno not long after becoming young adults. The apartment was located in the Spice Market at 20 Culpepper House. It was previously inhabited by the Rasoya family, and had three bedrooms and two bathrooms. The apartment was also known for its Chef's Kitchen. Whiling living in the apartment, Ella and Alexander married and welcomed four sons: Dylan Goth, Cody Goth, Peter Goth, and Holden Goth. The family decided to move again when they grew tired of the noisy neighbors and lack of a yard for the children to play in.
When the two oldest boys were close to becoming teenagers, the Goth family relocated to Creek Corner Cove in the neighborhood of Shady Acres in StrangerVille. The home built on the lot was a blue mid-century modern with three bedrooms, two bathrooms, and a big backyard with a pool, swingset, and back patio.
Onamatology
Edit
Goth: Relates either to medieval times or means "an uncivilized person" or "a person without culture".
Mortimer: From an English surname meaning "still water" in Old French.
Bella: From the Italian word meaning "beautiful".
Cassandra: From the Greek name meaning "to excel, to shine".
Alexander: Greek name meaning "defending men".
Ella: From the Germanic name Alia, meaning "other".
Dylan: From Welsh elements meaning "great tide, flow".
Cody: From a Gaelic surname meaning "descendant of Cuidightheach".
Peter: From the Greek name Petros, meaning "stone".
Holden: From a place name meaning "deep valley".
Red: The color red.
Family Tree
Edit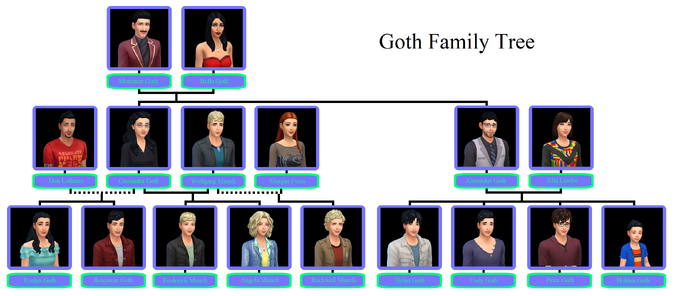 Community content is available under
CC-BY-SA
unless otherwise noted.