Fanon article ownership
This fanon page was created and is owned by
DutchlishSim
(
talk
). Unless the edit is constructive and/or minor (such as fixing a template), please do
not
edit this page unless given permission from the author.
Fischer family
Name
Fischer family
Number of generations
3 generations
Family connections
Cooke family, Carr family, Houwdegen family, Bell family, Una family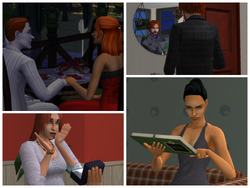 Description
The Fischer family is a rich, powerful, but infamous family. When the Sims of Desiderata Valley chased them away, they build a new life in Fear Valley.
Other Information
Game
The Sims 2
Playability
Playable
Neighborhood
Desiderata Valley
The Fischer family is a rich, but infamous family in The Sims 2. They're living in Fear Valley (downtown of Desiderata Valley). The family is involved with supernatural affairs. Now there are vampires, werewolves and a zombie.
Family Stories
Edit
A life in 'the new world'
Edit
It all started with the birth of Radbout Houwdegen in the 13th century. He was the son of two Dutch peasants and they moved to Simtopia. They made a long journey over the sea and finally they reached the new world. Simtopia offered a lot of new opportunities. Radbout's parents started a shop and he inherited the shop after their death.
Radbout was a young an handsome merchant and Queen Samantha couldn't resist his charmes. They started an affair and they got 3 children. He also had an affair with Sister Pythia and another child was the result of it. Queen Samantha gave Radbout the title 'Count'.  When the king discovered the affair, he wanted to execute the Count. However, the Count ran away and never came back.
The Fischer family
Edit
Radbout's children got their own children, grandchildren, greatgrandchildren, etc. Mr. Fischer (née Houwdegen) was a descendant of Radbout. He had a wife and a son Simon. It's unknown where they lived, but they passed their holidays in Desiderata Valley. Simon loved Desiderata Valley and he moved to the neighborhood when he was an adult.. His parent were possibly deceased.
The bite of Michelle
Edit
The Fischers met the inhabitants of Desiderata Valley and became friends with some of them. But everything changed after the divorce of Simon and Michelle. Michelle brought danger to the inhabitants. She turned in a vampire and became a merciless woman. She ruined the lives of many Sims, but Willow Darga finally killed her.
Fears in Fear Valley
Edit
Michelle's son Carl fled with is his lover Sophie to Fear Valley, the downtown of Desiderata Valley. He was ashamed of his mother and wanted to start a new life. The inhabitants of Desiderata Valley were angry at the Fischers and they chased them away to Fear Valley. Later they build together a new life in Fear Valley.
Strangetown's time machine accident
Edit
The inventor Loki Beaker created a time machine. When he tested it on his test subject, something went wrong. Four men of the medieval era appeared in the Beaker's laboratorium. Four medieval men between modern day people... Is this the doom of Strangetown?
Simon Fischer's cousin Katherine Williams-Houwdegen was a secret agent and she has to discover the secrets of the Capps and the Montys. Will she end the feud?
Bye, bye, Miss Lothario
Edit
Bonnie Houwdegen moved to Pleasantview and got in love with Don Lothario. They married and Bonnie got pregnant. Then she mysteriously disappeared and Don was the last person who saw her... Isn't it suspicious Don also saw Bella Goth as the last person? Or is Strangetown's time machine accident the reason of her disappearance?
Family Ties

Edit
The Fischer family has a lot of links with other Desiderata Valley families. Here's a list of the most important families that have a link with the Fischer family. 
Houwdegen family
Edit
Count Radbout Houwdegen is ancestor of the family, so he has a distant link with the family. Contessa Willow Houwdegen, his wife, was also the nanny of Carl Fischer.
Cooke family
Edit
Due their affair Julien Cooke and Michelle Fischer got a child named Carl. Julien married with Carla Cooke and they have a son Felix.
Carr family
Edit
Peter Carr's daughter Sophie married Carl Fischer. They have a daughter Morgan.
Family Tree
Edit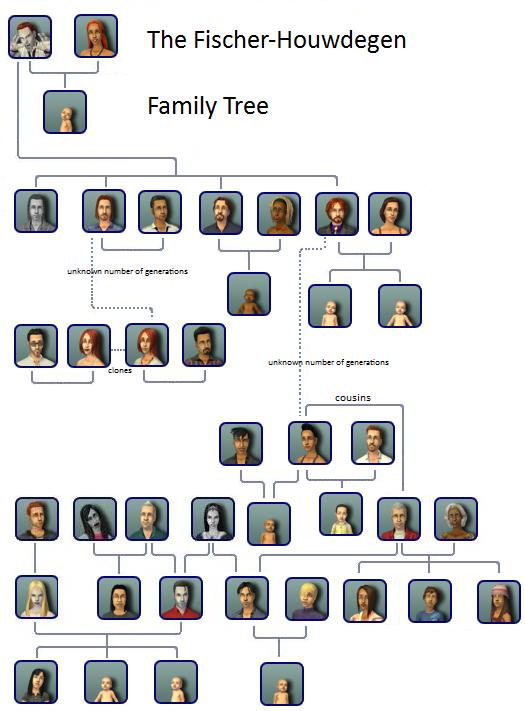 List of Supernatural members
Edit
A lot of members are a supernatural creature or did some supernatural things.
First, the family would be a normal, traditional family.
The Fischer family was actually a Dutch family (my game is in Dutch) and they called Visser. I translated their names for the wiki.
Community content is available under
CC-BY-SA
unless otherwise noted.