Fanon article ownership
This fanon page was created and is owned by
Joyannette
(
talk
). Unless the edit is constructive and/or minor (such as fixing a template), please do
not
edit this page unless given permission from the author.

February Hanover

Biography
'February Hanover is the second generation of the Hanover family. Will the legacy continue through her?'
Name
February Hanover
Gender
Female
Age
Adult
Life state
Sim
Lifetime wish

| | |
| --- | --- |
| | Living in the Lap of Luxury |
Favorites

 Indie

 Shawarma

 Spice Brown
Appearance
Hair color
 Brown
Eye color
 Brown
Skin color
 Medium
Body shape
 Average
Other Information
Game
The Sims 3
Playability
Playable
World
Riverview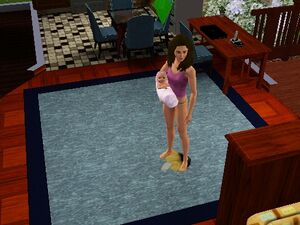 February Hanover is the second generation of the Hanover family.
February is of Greek descent and was adopted by January Hanover as at the age of 5. No one knows for sure what happened to her parents but they are thought to have left Riverview under assumed names. Regardless, they left February in the care of social services and left town.
As soon as February was adopted by January she became enamored with the fact that he was an author and desired to become one as well. She learned the writing skill and quickly published her own book. Not soon after she published her book, January sent her off the Smugglesworth Prep School. February spent her 90% of her childhood and all of her teen years at SPS.
Once February graduated from prep school, she came back home to live with January. Her lifetime wish was to be Living in the Lap of Luxury by having a net worth of $140,000. 
When February graduated, she immediately got a job in the Education field as a Teacher's Aid. A few days after February came home, January died. February inherited everything and became a business partner at the spa. She learned charisma to try and gain friends because she knew that she would need a lot of friends in order to accomplish her goals. One of her goals was to have a baby to carry on the Hanover legacy. She bought the Seductive lifetime reward and met Herbert Stoddard who couldn't resist her wiles. She got him to fall for her and kissed him the same day she met him. She soon lost interest in him because he wasn't quite the type she wanted to be the father of her child. 
When she got tired of eating cereal and bread and jam, February tried her hand at the stove and learned the cooking skill on Leisure Day. After lunch, she went to the store and bought some firecrackers which she proceeded to light on the lawn. After the last firecracker, a stray spark lit the yard on fire. Some well-meaning neighbors rushed over to help but only one of them actually did anything to fight the fire. This neighbor put the fire out before the fire department arrived. A lone firefighter arrived on the scene and congratulated February on putting the fire out so quickly. February immediately felt an attraction to the firefighter and introduced herself. The firefighter was named Rodolfo McKenzie and he fell in love with February.
February finally wrote her first bestseller- the first book in the Jimmy Sprocket series. She met Jevon Rouse and fell head over heels in love with him. They had an interesting relationship because they enjoyed Whoohooing in public places. Their first one was in the theater during a tour. The relationship didn't last and they soon parted ways but remained friends. When the relationship was over, February wrote her second bestseller and became a business partner at another business. 
In the spirit of Spooky Day, February went to the festival and won the apple bobbing contest. That same day, February completed her lifetime wish and bought out the spa, naming it Hanover Day Spa. February befriended Rashawn Palacios and wrote her fourth bestseller.
February became an adult and, like most Sims her age, she had a midlife crisis. It prompted her to move and she moved across town to a two bedroom/one bath home. She immediately regretted the move because her new home seemed smaller than her old home. She decided to suck it up and stay in the new house and concentrate on her career. She received another promotion and learned the logic skill to improve her chances of future promotions. Still in her midlife crisis, February got a tattoo of a simoleon on her back. She mastered the writing skill and gave herself a goal of writing five bestsellers.
Being the snob that she is, February decided that she wanted her baby to be blond so she decided that she wanted Rashawn to be the father of her child. She became pregnant and wished for a girl. While waiting for her little bundle of joy to arrive, she bought out another business and wrote her fifth bestseller. February discovered a star and named it Januaray Hanover and after Hannah Jones. February's baby came right on time and she named her little girl March Hanover.
Because she knew that she would need some help with the baby, she February hired a butler. Michaela Lo accepted the job and February was able to keep working while March was growing up. Just before March's 6th birthday, February disappeared during the night. No one is sure what happened to her but police don't expect foul play. Did the pressures of being a Hanover become too much for her? Did she realize that she wasn't mother material? Did she do it to drive up sales for her books?
No one knows where she is now but it was reported that March saw her years later in Egypt.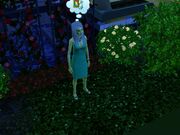 Community content is available under
CC-BY-SA
unless otherwise noted.