Fanon article ownership
This fanon page was created and is owned by
Matthewbrianc
(
talk
). Unless the edit is constructive and/or minor (such as fixing a template), please do
not
edit this page unless given permission from the author.

Elizabella Falls

Name
Elizabella Falls
Gender
Female
Age
Adult
Life state
Sim
Appearance
Hair color
 Light Brown
Eye color
 Brown
Skin color
 White
Body shape
 Thin
Other Information
Game
The Sims 4
Playability
Downloadable
World
Willow Creek
Elizabella Falls (née Cottrell, formerly Lothario) is a downloadable sim on the Gallery made by Matty Kardashian. She currently resides in Willow Creek from The Sims 4.
Background
Edit
Elizabella was born to Adeline Cottrell, she is the Sister of Caminiti Cottrell. Growing up together was amazing for Elizabella and her Little Brother. Though that was up until the Day their Parents got a Divorce. It was hard on both Siblings.
Early Life
Edit
To be continued.
Motherhood and Marriage
Edit
Elizabella had always wanted a baby, there was never a time she didn't think about babies. Seeing them just made her want them more and more. Then one day at a young age, she fell head over heeds for a handsome guy. His name was Don Lothario. They ended up getting married and not long after, their Daughter Beth was born.
Daughter Ageing Well
Edit
Elizabella was her pride and joy, she put all her time into her Daughter. Which is why Elizabella didn't notice Don start an affair with her Mother, Adeline. It took a while for Elizabella to work out something was going on. She knew what she had to do, it's what her Parents done, she got a Divorce. She couldn't be with this guy anymore, once a cheat always a cheat.
Single Mother, Wanting More
Edit
Life as a single Mother was good for Elizabella, she loved being on her own with her Daughter. She loved it so much, that she wanted another one, another baby. But how? She was single and couldn't trust men. She still of course loved Don, so she had an idea. She wanted Revenge. She had planned to remarry her ex-husband and to get Pregnant then leave him. Though they did remarry, the baby never game along, and in the long run, Don got distant once again. Was there another affair? No one knows.
Baby Joy and a New Husband
Edit
Elizabella had given up on her dream of another baby, all until one day she was down in the dumps and came across this handsome stranger. He went by the name of
Aleksander Falls
. Aleksander had these amazing blue eyes, and blonde hair. Elizabella got close to him and started to tell him everything. In time they fell in love and got married. A little while later the couple were over the moon when they learnt that they were Pregnant! Elizabellas wish of another baby, was about to come true.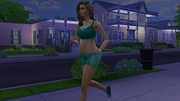 Elizabellas second pregnancy was different to her first, this she became more sick, being sick countless times. As she grew bigger though, she knew it's what she wanted. While going through this Pregnancy her brother
Caminiti
and his wife
Gretchen
welcomed twin boys. Elizabella just had to go and spend some time with her new Nephews.
It's TWINS!
Edit
Elizabella was so happy, she was having the baby she wanted. But what she found out when she went into labor, was something she never thought she'd get. "We never to get the other one out now." Those were the words we heard before going into shock, two? She was having twins? First a
Son
and then.. a
Daughter?!
Elizabella and her
Husband
couldn't believe their eyes. Welcome to the world, Dashiell and Amelia Mae. Life got back to normal after having the Twins, but the space in the little house was limited. So Elizabella and her Husband knew it was a good idea to move, where would they move? Well, just over the road! Yes, the Falls family moved over the road. Who knew moving just a cross from there old house, and down a bit would lead to a New Friendship? Elizabella finally had her own Girl pal Alana, who lived right next door, she was thrilled. Until one day when she was having Tea and a good old Gossip, when a fire broke out! Let's just say, Elizabella saved the day.
Adulthood and Baby Number 4?
Edit
After becoming an Adult, Elizabella and her
Husband
had another talk. They already had two pride of joys, after getting what some call a 'Buy one get one Free' But could there be room in the Family for another one? Or is there already one on the way?
Unlike her first two pregnancy's, Elizabella had crazy cravings, she wanted to eat everything! There wasn't anything, she would not eat, though her favorite was Salsa and Chips! It was a few months later, the Chidren were at School, apart from Amelia Mae, she was off ill. Elizabella was alone in the House with her Daughter. When all of a sudden she was in a lot of pain, she looked down to her feet and saw a pile of water. She then knew she was in labor. A few hours after being in labor, Elizabella and
Aleksander
welcome a beautiful baby girl,
Neve
.
Dreams and Goals
Edit
Community content is available under
CC-BY-SA
unless otherwise noted.