Fanon article ownership
This fanon page was created and is owned by
SkeletonFrost
(
talk
). Unless the edit is constructive and/or minor (such as fixing a template), please do
not
edit this page unless given permission from the author.
Elenore Rourke
Name
Elenore Rourke
Gender
Female
Age
Adult
Life state
Human
Education and Employment
Alma Mater
Sims University
Major
Physical Education
Career
Snitch
Zodiac sign
 Virgo
Lifetime wish

| | |
| --- | --- |
| | Dynamic DNA Profiler |
Favorites

 Roots

 Stir-Fry

 Sea Foam
Appearance
Hair color
 Black
Eye color
 Green
Skin color
 Light
Body shape
 Average
Elenore Rourke is the eldest daughter of Abigail and Wendell and the loving wife of Jack Kevi. She is the mother of Evelyn Kevi and the older sister of Matthew and Hannah Rourke. 
When Elenore was a Child, her parents were new Young Adults and were overjoyed when she came into the world. However, Elenore was more like her father, and cared for all things. She went to public school instead of being homeschooled like Wendell. There, she was exposed to Supernaturals. This enraged Abigail, who taught her never to speak to Supernaturals and never associate with them. After a scarring talk, Elenore became afraid of Supernaturals, which deeply saddened Wendell.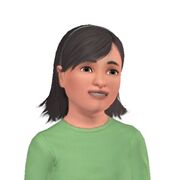 When she was mid-way through being a Child, Elenore's little brother Matthew and little sister Hannah were born. Something about Hannah always had Elenore frightened, but she kept it to herself. It was at this point that she first met Jack Kevi, a slightly older boy and she fell in love. Abigail didn't approve of Jack, so Elenore went behind her back to Wendell to see Jack.
Elenore became slightly more rebellious to Abigail's ways in her Teenage years, and announced that she and Jack were dating. This infuriated Abigail, but Elenore brushed her off and practically cut her mother out of her life. Elenore got good grades, as she is a genius. Her intelligence kept Abigail quiet. 
Even though they were still in high school, Elenore and Jack became engaged.

As soon as they graduated, Elenore and Jack moved in together to escape Abigail, and had financial support from Wendell. However, shortly after they decided to get married and Jack thought it appropriate to ask for consent from both her parents. Jack and Elenore asked Wendell for his blessing, which he happily gave, and later had supper with Abigail to ask.
Abigail rejected Jack and demanded they call off the wedding. Elenore fought with Abigail until she said she would bless the couple, so long as Elenore didn't take Jack's poor name. She tried to protest, but Jack accepted as long as the children could have Jack's name. The agreement was met and the two wed. Shortly after, they had their first child - Evelyn.
After Evelyn was born, Abigail and Jack found that Wendell's checks were intercepted by Abigail, and left them financially broken. Fearing that Abigail would never allow Jack and Evelyn in the house, Wendell and Elenore burned down her house and Elenore moved her family back to the Rourke's home.
Starting a career late, Elenore recentlly joined Law Enforcement after feeling like Evelyn was properly grown enough for her to work. With Jack beginning as an Athlete, Elenore is depending on her father to help raise Evelyn, as Hannah is starting her directing career, Matthew is becoming an astronaut and Abigail sees Evelyn as bad bloodlines. Elenore wants more children, and has a suspsicion that Jack and Abigail's hostilities are coming to a head. 
Elenore graduated from Sims University with a major in Physical Education. This joy was shared with Matthew, who also graduated with her. 
Elenore's parents have both died, Wendell to Old Age and Abigail to drowning. She is unaware that Jack killed Abigail.
Elenore is scared of Supernaturals, but is coming to like Arden Tobias - her sister's girlfriend.
Jack proposed to Elenore, and the two were married on a Sunday.
Elenore wants to have a son.
Community content is available under
CC-BY-SA
unless otherwise noted.