Fanon article ownership
This fanon page was created and is owned by
Micah-l-lucas
(
talk
). Unless the edit is constructive and/or minor (such as fixing a template), please do
not
edit this page unless given permission from the author.
The Delgato family consists of Pierce Delgato, his girlfriend Elsa Bjergsen, their three children Atreus Delgato, Dimitri Delgato, and Sparrow Delgato, as well as Elsa's son from a previous relationship, Byron Munch, and Pierce's younger brother, Austin Delgato. The family originally resided at 1312 21 Chic Street before moving to the Spice Market.
Onamatology
Edit
Delgato: Spanish surname meaning "of the cat".
Justin: Derived from the Latin name Iustinus, meaning "just".
Supriya: Means "beloved" in Hindi.
Pierce: Derived from the name Piers, meaning "stone".
Evie: Diminutive of Eve or Evelyn, both meaning "life."
Austin: Medieval form of 'Augustine', meaning "venerable".
Byron: From a surname meaning "place of the cow sheds".
Atreus: Greek name meaning "fearless".
Dimitri: Masculine variant of Demeter, meaning "earth mother".
Sparrow: From the name of the bird meaning "bringer of death".
Maya: Variant of Maia meaning "good mother".
Adilynn: Variant of Adelyn meaning "noble".
Phoebe: From the Greek name Phoibe meaning "bright, pure".
Ralsei: Variant of Asriel meaning "my help is God".
Tatiana: Name of unknown meaning.

Family Tree
Edit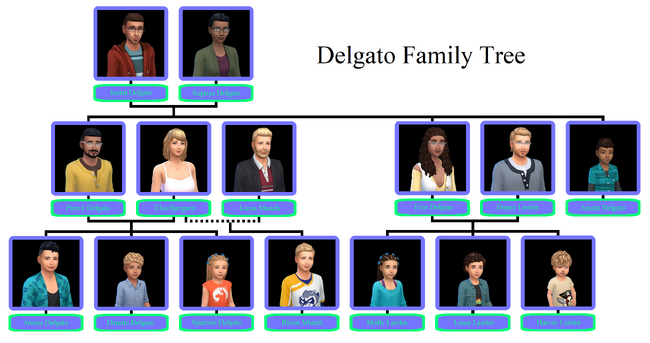 Community content is available under
CC-BY-SA
unless otherwise noted.