Conrad Fischer

Gender
Male
Age
Adult
Life state
Sim
Education and employment
Career
Writer
Family
Romances
Martha Fischer
Children
Jonas, Amelie
Personality
Traits
Good
Genius
Cheerful
Aspiration
Successful lineage
Appearance
Hair color
Greying
Eye color
Green
Skin color
Fair
Other information
Game
The Sims 4
Write a Review!
Conrad Fischer is an adult sim who lives in Brindleton Bay. He is the husband of Martha Fischer, the father of Jonas Fischer and Amelie Fischer and the co-master of the family dog Lomax.
He works from home as a successful writer of books on Mathematics and Physics.
Life history
Edit
Conrad was born to Hans and Erica Fischer, and when growing up lived in Windenburg. When he married Martha and they started a family, they moved to their current residence, White Birches in Brindleton Bay.
Personality and relationships
Edit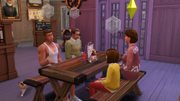 Conrad is a kind-hearted, gentle family man, as befits his good and cheerful traits. His is devoted to his family, though he acknowledges that the nature of his work can make him aloof and preoccupied. Although he is usually quiet and reserved, he can easily have fun with those he knows well.
He has a loving relationship with his wife, Martha, especially given their similar personalities and shared interests. They enjoy doing creative and knowledge-based things together, such as visiting libraries and museums.
Conrad has a natural bond with his young daughter, Amelie, as she shares the family's tendency to high intelligence and quiet creativity. He often helps her with her honework and creative projects, and they enjoy reading and playing chess together. Conrad's relationship with his son, Jonas, is the most complex. Whilst loving his son dearly, Conrad sometimes felt their differences in personality to be an almost impenetrable barrier between them. Jonas' fiery rebelliousness made Conrad feel as if Jonas was rebelling against him personally, and even made him doubt that he could ever be the father that Jonas needed. It has been suggested that, in Jonas, Conrad sees all that he could never be himself - athletic, confident, and socially popular. However, Martha pointed out that instead of being threatened by this, Conrad should be proud that he had developed these qualities in his son. Conrad and Jonas have acknowledged their differences in personality and have found plenty of common ground. Together, they enjoy doing outdoor activities and handy jobs around the house.
Physical apperance
Edit
Conrad is of medium build, with his body shaped by his quiet, largely sedentary lifestyle. He has greying hair in a simple style and hazel eyes. He usually dresses quite formally, favouring shirts and jumpers in green, brown or dark red.
Community content is available under
CC-BY-SA
unless otherwise noted.