Fanon article ownership
This fanon page was created and is owned by
Orangeguy99
(
talk
). Unless the edit is constructive and/or minor (such as fixing a template), please do
not
edit this page unless given permission from the author.
Christian Jones

Biography
Hello! My name is Christian Jones!
Name
Christian Jones
Gender
Male
Age
Adult
Life state
Witch
Education and Employment
Alma Mater
La Fiesta Tech
Major
Literature
Year
Graduated
Career
Relic Liberator
Aspiration
 Knowledge
Lifetime want

| | |
| --- | --- |
| | Become Space Pirate |
Chemistry
Turn ons
 Custom Hair
 Witchiness
Turn off
 Fitness
Appearance
Hair color
 Brown
Eye color
 Brown
Skin color
 Light
Other Information
Game
The Sims 2
Neighborhood
Bluewater Village
Christian Jordan Howe-Jones (born Cristin Jordan Jones) is a sim residing in Belladonna Cove. He is the son of Caryn Jones and Matthew Howe.
(For the sake of efficiency, Christian is referred to as Christian before his coming out)
Cristin Jordan Jones was born to her parents Caryn and Matthew Jones in Belladonna Cove.
Not much is known about Cristin's toddler years
When Cristin was 4, her parents separated, and her father now went by his birth name, Matthew Howe. Although they made the decision to get back together and give their marriage another shot. Her family packed up their Belladonna Cove apartment and moved to Bluewater Village.
By the time she was nearing high school however, her parents decided to officially divorce. Cristin would later find out about their infidelities.
Cristin initially resented her mother, and her father had by now moved out to his own place in Belladonna Cove. She and Caryn began to grow close again as time passed though. Things picked back up, Caryn saved up for a car, and Cristin got a part-time job and a car.
Cristin later befriended her classmates Claire Tellerman and Lily Seavey. As she and Claire began spending more time together, Cristin began to realize that she's kinda.... pretty. Before she knew it, she had a crush.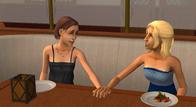 The two ended up kissing while they were hanging out. Later after their first official date at a restaurant downtown, the two began officially going steady. Around this time Cristin was accepted into private school.
Cristin however broke up with Claire after coming to a life-changing realization. She (or should I say he) was trans. He began going by Christian (and later chose to have his last name changed to a hyphenation of his mom's and father's respective surnames) and slowly came out after much hesitation. Caryn and Matthew thankfully were accepting of their son. He began transitioning before entering college. He decided to attend college at La Fiesta Tech.
Christian initially declared the physics major and befriended his classmate Holly Kearney. It wasn't long before the two began seeing each other.
A studious and intelligent young man, Christian made the dean's list both semesters his freshmen year.
Christian's newfound relationship with Holly continued. He decided to switch to the literature major since it fell more in line with his dream of being a Space Pirate.
Christian continued to score high marks. Soon he proposed to Holly, and the newly engaged couple moved into a rental house together.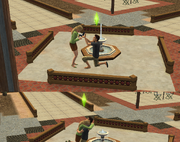 Christian also found a new friend in Phoebe Adams, Belladonna Cove's resident Grand High Good Witch. Soon enough she showed him, and later his fiancee, the path of light to their newfound magical abilities.
Christian graduated Summa Cum Laude, and was the class valedictorian. His smarts were only rivaled by his fiancée Holly, who coincidentally was the salutatorian (and graduated Magna Cum Laude).
After graduating, the two settled into their new home Downtown at 107 Custer Boulevard. Christian quickly found a job in his preferred line of work as a relic liberator. For the time being, Holly joined him as an Ambassador's Intern, needing some extra cash after purchasing their new home.
Community content is available under
CC-BY-SA
unless otherwise noted.