Christel William-Brown

Biography
Christel has been taken from her elderly parents and shoved into her extended family's home, will her father's good genes save her from falling into the family business?
Name
Christel William-Brown
Gender
Female
Age
Teen
Life state
Human
Education and Employment
School
Stary Community School
Grade
C
Zodiac sign
 Capricorn
Lifetime wish

| | |
| --- | --- |
| | Heartbreaker |
Favorites
 Electronica

 Sushi

 Violet
Appearance
Hair color
 Blonde
Eye color
 Green
Skin color
 Light
Body shape
 Thin
Other Information
Game
The Sims 3
Playability
Unplayable
World
Twinbrook
Christel Eugenia William-Brown 
is the second daughter of Renee William-Brown, and first child of Dudley William-Brown (ne Racket). Christel is the half-sister of Jenni Kayes, half-aunt of 
Tamora Lorent
, 
Goodwin Goode Jr
 and
Joe Kayes
. granddaughter of
Max
and
Marigold Racket
, niece of
Dennis
and
Bill Racket
, cousin of
Shark
and
Lolly Racket
, great-aunt of
Dean Lorent
,
Shane Lorent
, 
Nick Goode
and relative of
S.Windle Racket
 and Eugenia William. Christel is younger than her niece, having been conceived and born shortly after Tamora. She is unplayable because her family moved to Moonlight Falls and it is unknown what her status is.
Biography
Edit
Christel's mother Renee had already been married before to
Lenny Smith-Jones
, the father of Christel's half-sister Jenni. But after Renee and Lenny divorced and Jenni became pregnant with her boyfriend
Goodwin Goode
's baby, Renee decided to find love again, and surprisingly found it with Dudley Racket. Renee and Dudley conceived Christel and on the day of Lenny's wedding day to
Gala Ball
 (another weird pairing), Renee proposed to and married Dudley in the same party to steal the limelight. Christel was born a day after her niece Tamora and Jenni's paternal half-brother Courtney. Her nephew Goodwin Jr was born when Christel was a toddler. After Renee and Dudley became too old to look after Christel, Christel was sent off to live with her uncles and cousins in their big house. Renee later dies within a day of Christel's rehoming, and Dudley died a while after, making Christel an orphan.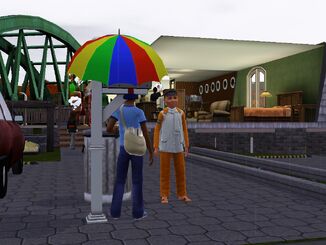 For some reason, despite being born after, Courtney Smith-Jones is older.
Christel was going to be sent off to live with Jenni, but with Jenni on her third child, Christel would have simply been too much. Christel was also going to live with her relative Eugenia, but she didn't even know Eugenia. Christel was eventually settled in with the Racket family, with her uncles, aunt (by marriage), and cousins.
Community content is available under
CC-BY-SA
unless otherwise noted.