Fanon article ownership
This fanon page was created and is owned by
Orangeguy99
(
talk
). Unless the edit is constructive and/or minor (such as fixing a template), please do
not
edit this page unless given permission from the author.
Chad Preston

Name
Chad Preston
Gender
Male
Age
Young Adult
Life state
Sim
Education and Employment
Alma Mater
High School
Grade
B
Career
Snack Hawker
Zodiac sign
 Aries
Lifetime wish

| | |
| --- | --- |
| | Become a Superstar Athlete |
Favorites
 Dark Wave
 Vegetarian Fish and Chips
 Irish Green
Appearance
Hair color
 Black
Eye color
 Blue
Skin color
 Light
Body shape
 Thin
Other Information
Game
The Sims 3
Playability
Playable
World
Hidden Springs
Chadwick Christopher "Chad" Preston (né Lin-Lothario)is a sim residing in Hidden Springs. He is the son of Nadine and Tracey Lin-Lothario, and step-son of Ryan.
He is married to Emmit Preston.
Early Childhood
[
]
Chad was born unexpectedly to his parents, Nadine and Tracey. Since Tracey never planned on fathering a child, the two never had a very close relationship. As he grew up, his parents' marriage began to show signs of deterioration.
Childhood
[
]
When Chad began grade school, his parents made the decision to separate. He and his mom, now a single parent, moved out into their own house.
Even from a young age, Chad displayed great athletic prowess.
Teen Years
[
]
By the time Chad entered high school, his mom had successfully run for mayor. He also started being pursued by a girl named Trina Keith. However, Chad didn't reciprocate. In fact, he realized he wasn't into girls at all. He later started dating his classmate, Bailey Bruty.
During his teen years, Chad's aunt Kirsten had passed away from old age.
A month into his relationship with Bailey, he was forced to break things off because he was moving to Hidden Springs with his mother, who started feuding with his aunt Dani and now his father. After they had settled into their new home, Nadine had already managed to make some new friends, although Chad was struggling to. Having lived in such a close-knit town his whole life, the move was quite an adjustment. However, he soon met Sidney Shawkti and Emmit Preston. Chad immediately developed a crush on Emmit, although he initially rebuffed his advances, as he was dating Annie Tong.
Choosing to ignore it, he accepted when Dennis Chesterfield asked him out, and the two began officially dating. He eventually got over Emmit as him and Dennis fell for each other. Soon the two were in love, despite disapproval from Dennis's strict father. Dennis never brought Chad around his father.
Chad's mother later began dating Ryan Anderson. The two got engaged and married his senior year.
Young Adulthood
[
]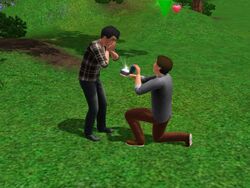 After they both graduated, Dennis took Chad on a romantic date to Meadow Beach. He proposed, and an ecstatic Chad accepted. Still facing disapproval from his dad, he moved in with Chad shortly afterwards. Dennis quickly found work in the culinary field, while Chad began his foray into sports. However, once they moved in their relationship worsened. They were both stressed from their new jobs and began to grow distant. They were always too tired from work to spend time together. Chad also found out that Dennis didn't want kids. That was the final nail in the coffin. They broke off their engagement and Dennis moved in with his brother.
Shortly after his breakup, he and Emmit reconnected and started hanging out again, the two having become busy with their lives in their final year of high school. After a few months, Emmit revealed he had a bit of a crush on Chad, and had been questioning for awhile. The two agreed to go on a date, and quickly became an official couple.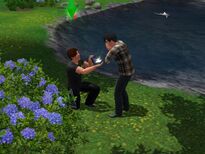 And it was so far the best relationship Chad had been in. Them being friends first gave them the stability that Chad lacked with his previous boyfriends. Eventually, Chad and Emmit moved in together. Soon after, he proposed. The two were married the following year.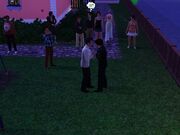 Gallery
[
]
Trivia
[
]
Chad's aunt Opal and uncle Gary are both related by blood, as they're Tracey's siblings.