Name
Carla Veloso
Gender
Female
Age
Adult
Life state
Human
Education and Employment
Alma Mater
Private School
Career
Fact Checker
Family
Child(ren)
Ramone Schnell
Favorites

 Rock

 Green
Appearance
Hair color
 Black
Eye color
 Blue
Skin color
 Fair
Body shape
 Thin
Other Information
Game
The Sims 2
Neighborhood
Radiator Springs
Carla de Santos da Silva was born 1st April 1981. She's Fact Checker since 2001 for her work. She's a footballer in the world. She has a long black hair , Blue eyes , Pink lips, She was wear a short green dress.
Her Career
Edit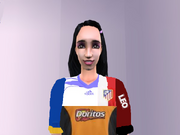 She was started a youth career from School and Boca Juniors Youth Football Club. She's a good work on youth career to be a Senior Career on 2000. In 2000 She became footballer on Age 19. She did won the champions for Argentine League on 2000. Two Copa Libertadores , One Intercontinental Cup But 2002 She was moved from Boca Juniors to Wolverhampton for 15.8 Million Pounds. She did won only a Football League Division 1 Playoff Round to promoted to Premier League a top division. On 2003/2004 Season She can't did for it But she can recover them on next season for relegation. But now on the end of 2005/2006 Season for the transfer window open. She has negotiations from 4 European Teams and 1 Asian Team But she was choose a Spanish Elite European Champions is Real Madrid before next season. On Real Madrid , She'd a better than a past when on youth. She'd win the champions too. from 2 Spanish League Winners , 1 Supercopa , 1 UEFA Best Player Award. On 16 May 2010 after the match She was to move out from Real Madrid and say Goodbye to everyone for her friends. In July 2010 She move from Real Madrid to Atletico Madrid. She'd the goal of former team for Real Madrid on 27 April 2013. She'd win only 1 UEFA Europa League on 2012. But on international team on Brazil She'd won the champions for 1 World Cup , 3 Confederation Cups. On the winter 2013 She'd want to move out from Europe to Asian Team in Thailand for SCG Muangthong United to not present to disband team or not? She's Fact Checker from 2001 to Present to working now
Clubs Winners/Player Awards
International Winners

Argentine League

- 2000

FIFA Confederation Cup

- 2005

- 2009

- 2013

Copa Libertadores

- 2000

- 2001

FIFA World Cup

- 2002

Intercontinental Cup

- 2000

Football League Division 1

- Playoff 2003

Spanish League

- 2007

- 2008

Supercopa de Espana

- 2008

UEFA Europa League

- 2012

UEFA Best Player Award in Europe

- 2009
She's first Brazilian footballer for the moved to Asian Team
Community content is available under
CC-BY-SA
unless otherwise noted.