Fanon article ownership
This fanon page was created and is owned by multiple users. Unless the edit is constructive and/or minor (such as fixing a template), please do not edit this page unless given permission from one or more of the owners.
Owners: WikiBuilder1147 (talk) · K6ka (talk)
·
OpelSpeedster
(talk)
Benjamin Faulkner

Name
Benjamin Faulkner
Gender
Male
Age
Child
Date of birth
25th September 2138
Date of death
2nd July 2158
Life state
Human
Faulkner family
Parents
Melanie Faulkner, Damian Faulkner
Appearance
Hair color
 Blonde
Eye color
 Blue
Skin color
 Light
Body shape
 Thin
Ben Faulkner is the main protagonist of the Revolution series. He is a resident of Bridgeport and is best friends with Miami Hodgson, friends with Alex Townsend and friends with Harry Miller.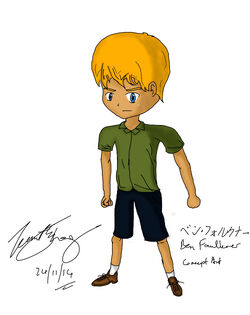 Ben was born on the 25th September 2138 to parents Melanie Faulkner and Damian Faulkner. He was a curious and intelligent child, but was brought up to unquestioning follow the principles of the Government.
TBW
Community content is available under
CC-BY-SA
unless otherwise noted.