Fanon article ownership
This fanon page was created and is owned by
Orangeguy99
(
talk
). Unless the edit is constructive and/or minor (such as fixing a template), please do
not
edit this page unless given permission from the author.
Fanon of Preexisting Sim
This page is about a preexisting Sim in a fanon setting. This article should not be treated as an canon article. For information about the canon Sim, visit here:
Barbara Baity
Barbara Baity

Name
Barbara Baity
Gender
Female
Age
Adult
Life state
Sim
Baity family
Romances
Todd Kearney , Cassidy Tinsley 
Marital status
Married
Child(ren)
Mabel Tinsley ,

Alice Tinsley

 
| | |
| --- | --- |
| Zodiac sign |  Sagittarius |
| Aspiration |  Knowledge |
Chemistry
Turn ons
 Fitness
 Great Cook
Turn off
 Red Hair
Appearance
Hair color
 Red
Eye color
 Green
Skin color
 Dark
Body shape
 Thin
Other Information
Game
The Sims 2: Seasons
Playability
Playable
Neighborhood
Riverblossom Hills
Barbara Claire Baity is a Sim residing in Riverblossom Hills with her fiancé Cassidy and their daughters, Mabel and Alice
Life Leading up to "The Sims 2"
[
]
Barbara was born to her parents in the Riverblossom Hills area, in the nearby village of West Weasels. She graduated from Académie Le Tour with a degree in biology.
Adulthood
[
]
After graduating from college Barbara returned to her hometown, and came to Riverblossom Hills when she found a job in the natural sciences, wrangling clams from the bed of the river. One day after stopping at the local cafe for a bite to eat on the way home she hit it off with the chef, Cassidy Tinsley, who would eventually become her husband. The two were smitten and soon moved in together.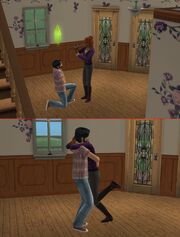 The couple moved into a bigger house at 102 Firefly Pass, and even got engaged. Though the two eagerly began planning their wedding they later decided to put it off... because Barbara was pregnant. She later gave birth to their first daughter, who she named Mabel. Once Barbara returned to work after Mabel's birth she soon snagged a promotion to scatmaster. Not long after Mabel was born Barbara got pregnant again, at which her and Cassidy decided to quietly elope. The two were married at the county courthouse and Barbara later gave birth to their second daughter, Alice.
Personality
[
]