Fanon article ownership
This fanon page was created and is owned by
Mathetesalexandrou
(
talk
). Unless the edit is constructive and/or minor (such as fixing a template), please do
not
edit this page unless given permission from the author.
Ayham Bahri

Biography
'The other member of the Al-Dar alongside Usaim, he is rebellious in the other way: he wishes to resist the WooHoo involved and vanity loaded pop culture that was brought in ever since the Bridgeport revolution, bringing in more conservative'
Name
Ayham Bahri
Gender
Male
Age
Young Adult
Life state
Normal
Al-Dar
Parents
None
Sibling(s)
None
Romances
None
Child(ren)
None
Zodiac sign
 Gemini
Lifetime wish

| | |
| --- | --- |
| | World-Renowned Surgeon |
Favorites

 Electronica

 Falafel
 Irish Green
Appearance
Hair color
 Grey
Eye color
 Grey
Skin color
 Medium
Body shape
 Fit
Social Standing
Celebrity status
Ayham Bahri, born June 19, 1987, is the second member of the small but social conservative Al-Dar alongside Usaim Hamdi. Ayham is a surgeon and rightly deserving of his role in saving lives. As a member of the Al-Dar, Ayham stands against the vain celebrity culture that is centered around Bridgeport's native elites, and thus is a natural yet unacquainted ally of the Church of Alexandros, which also looks down on the celebrity culture (and more so, WooHoo and Romance) despite it consisting almost completely of veteran celebrities.
Ayham was of Egyptian birth, and he was a reserved individual who preferred books and poetry over sports, some of which he deemed violent. Because the tomes written by Scholars' Alliance in the first timeline was preserved as the authors themselves moved over, Ayham had read several historical logs of Scholars' Alliance and was quite impressed by their academism and dedication to reversing the vulgar popular culture's atavistic effects, although Ayham was less than pleased at the lack of male leadership: although Ayham was appreciative of the Greek anti-consumerism and anti-sexualization that focused on chastity and faithfulness if married, Ayham and the Al-Dar in general disapproved of the Greek call for celibacy and female activism, advocating male protectionism of female interests. In fact, Hypatia has been the catalyst for the formation of Al-Dar as Hypatia had been the major driving factor in archiving the works of the individual scholars, especially preserving Stratonike's pioneering in the fields of invention.
However, such gathering did not have a clear purpose until the popular media started reaching out to Egypt: Although the Scholars' Alliance had paid a visit to Egypt at the earlier part of the 2nd timeline, their importance was rather minimal. When Ayham paid a visit to Bridgeport, he was absolutely disgusted by the snobby celebrities and the soulless materialism that he saw in Bridgeport, calling it "godless ignorance," and rallied with Usaim to form the group Al-Dar, which was unheard of even when they moved into Sunset Valley, then one of the Church-controlled territory. When Al-Dar relocated to Sunset Valley, Ayham's occupation as a Neurosurgeon put him right under one of the Big 6 Lysistrata Amphipolita, who found him to her liking and thus Al-Dar became a locally known group.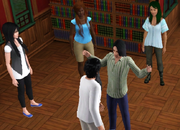 Ayham and the rest of the Al-Dar became suddenly more active right after the departure of the Big 6. With their departure, Usaim and Ayham were joined by the other two members of Al-Dar, Omar Qutb and Anwar Arafat. With that the Al-Dar became much more vigorous and more famous: Although they had not the celebrity level to be of any interest to the celebrity-centered media centered around Bridgeport that was the main source of mainstream media or because of this, Al-Dar slipped past the radar of most people until they decided that a mosque was needed in Sunset Valley. By now, Sunset Valley was pretty much governed by the Church all but in name. Ayham decided to get the paperwork filed up, but he was shy and he had not the courage to bring it up to an anonymous secretary. Conveniently enough, he had Chrysanthema, who was the only friend of the Al-Dar for the time, who was happy to get that processed up, and this got caught in the radar of the media: once that occurred, anti-Muslim sentiments erupted and nativism was on the rise, leading to the ultranationalist party the Patriot Party.
The character design was largely based on Ayman al-Zawahiri, taking from Ayman the relative lack of propensity for sports, his experience as a surgeon (and hence Ayham's job), and Ayham's rebellious streak derived from Ayman's activity as a radical against the Egyptian government.
Minor Factions of Time Paradox
Aedui

Cocolitanos oi Aedu  · Ailonwy oi Aedu  · Brennus oi Aedu  · Vercingetorix Massaliotes  · Dumnorix oi Aedu  · Ariovistus oi Aedu

Arverni

Aneirin oi Lugos

Al-Dar

Usaim Hamdi  · Ayham Bahri  ·

Anwar Arafat  

·

Omar Qutb

The Elect

Ray Dann  · Laan Blueshore  · Peggy Brennel  · Edith Berry  · Lucas Howland

The Patriot Party

United Snake  · Divided Snake  · Snake of Retribution  · Otakororo

Mathetai Mouson

Okeanos Iolkios  

·

Zoe Drabesike  

·

Melissa Epeirota  

·

Krinias Enopronos  

·

Seleukis Enopronos  

·

Persephone Phalara  

· Esomena Protogena
Community content is available under
CC-BY-SA
unless otherwise noted.