Biography
Gloomy but outgoing, Alexander followed the Goth family tradition and became a scientist. He has a unusual fascination for ghosts.
Name
Alexander Goth
Gender
Male
Age
Adult
Life state
Sim
Education and Employment
Career

Inventor
| | |
| --- | --- |
| Zodiac sign |  Taurus |
| Aspiration |  Knowledge |
| Secondary aspiration |  Fortune |
Chemistry
Turn ons
 Black hair
 Creative
Turn off
 Swim wear
Appearance
Hair color
 Red
Eye color
 Brown
Skin color
 Tan
Body shape
 Fit
Social Standing
District
Moon Islands
Reputation
Reputable Resident
Other Information
Game
The Sims 2
Playability
Playable
Alexander "Alex" Goth 
is the husband of noted socialite 
Cecilia Goth
, the youngest son of 
Mortimer
 and 
Bella Goth
, and the younger brother to 
Cassandra Goth
. Alexander's early life is pretty much identical to the life of
the official version
. His adult life, however is mostly identical to his life in 
The Sims 3 (Nintendo DS)
. He works as an 
Inventor
 and lives in a new Goth mansion with his beloved wife, Cecilia. He is currently 30 days from becoming an
Elder
.
Biography
Edit
Early Life
Edit
Alexander Goth was born to Mortimer and Bella Goth, an aristocratic couple on their last days of adulthood. During his time as a toddler, Bella mysteriously vanished, leaving him to live with his elderly father and much older sister Cassandra. Right before becoming a Teen, Bella returned and rejoined the family. At some point in his teens, Alexander met and fell in love with the beautiful Cecilia Amore, marrying her upon reaching adulthood. At some point, likely as a teen, Alexander began working as a scientist.
Adulthood
Edit
After becoming an adult, Alexander married his sweetheart Cecilia and continued climbing up the ranks in the science community. Alexander and Cecilia moved into a mansion in Moon Islands, a mass of separated islands forming a mysterious city.
I obviously based this incarnation of Alexander Goth on his appearance in the Nintendo DS port of The Sims 3. As in that game, he has tanned skin, red hair, similar clothes and a wife named Cecilia.
This Alexander is more of a side project of mine and is not part of my official canon. The official version has and will always live in Pleasantview and is in a relationship with Lucy Burb.
Alexander wears eyeliner, adding to the gothic vibe I intended for him.
Alexander has an alternate outfit with a slightly different hat and the same suit the Unsavory Charlatan wears. This outfit can only be accessed in CAS debug mode. However, this is mostly used by an alternate version I made of him.
He has another version living in another town. His slightly different thumbnail can be found below.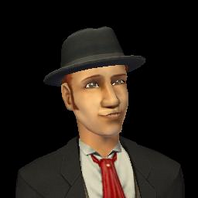 Community content is available under
CC-BY-SA
unless otherwise noted.