Alan Caliente

Name
Alan Caliente
Gender
Male
Age
Child
Life state
Ghost
| | |
| --- | --- |
| Zodiac sign |  Libra |
| Aspiration |  Grow Up |
Appearance
Hair color
 Brown
Eye color
 Brown
Skin color
 Light
Body shape
 Thin
Alan Caliente was one of my Sims 2 Sims, until he was burned to death. He is the son of Dina Caliente and Mortimer Caliente, brother of Quinn Caliente, half-brother of Cassandra and Alexander Goth and nephew of Nina Caliente.
Babyhood
Edit
Alan always seemed to remember things well as a baby. His father Mortimer died just a few days after he was born, and he remembered the event vividly until the day he died. He cried a lot more after his father's death.. Life became much harder for Dina, who now had to take care of two helpless babies on her own. When it was Alan and Quinn's birthdays, Dina bought them cakes and helped them age up.
Toddlerhood
Edit
As a toddler, Alan and his sister were equally neglected by their mom, who found it very difficult to care for both of the twins and herself. He spent most of his time playing with toys and crawling around in the bedroom he shared with Quinn. He liked to play the xylophone. He was eventually taught to talk by Dina, but that was all she had time to teach him before he had to grow up, and when the time came, he and his twin grew up badly.
Childhood
Edit
The rest of Alan's life leading up to his death was boring, to say the least. He got mediocre grades in school and spent the days playing computer games. He often mourned at his father's grave, which was outside of their condo. One day, while he was playing a game, the computer crashed and broke. He didn't tell Dina, and she eventually found out by herself. She decided to fix it herself- how hard could it be?
The Fire
Edit
It wasn't all that difficult, actually. She got pretty close to fixing it completely until it shocked her and started the desk on fire. Upon hearing his mother's screaming and the sound of something burning down the stairs, Alan and his sister came down to find that the house was on fire. The flames engulfed everything in their path until there was nowhere to escape to. Alan made a break for the front door, but was caught by the flames, and died.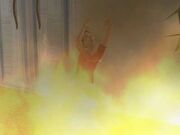 Aftermath
Edit
Alan was buried in the backyard alongside his father's grave. Dina has vowed to bring him back to life, and has joined the Paranormal career to find out how.
Community content is available under
CC-BY-SA
unless otherwise noted.