Fanon article ownership
This fanon page was created and is owned by
SkeletonFrost
(
talk
). Unless the edit is constructive and/or minor (such as fixing a template), please do
not
edit this page unless given permission from the author.
Abigail Rourke
Name
Abigail Rourke
Gender
Female
Age
Elder
Life state
Human
Education and Employment
Career

Unemployed
Zodiac sign
 Pisces
Lifetime wish

| | |
| --- | --- |
| | Swimming in Cash |
Favorites

 Classical

 Grilled Salmon

 Yellow
Appearance
Hair color
 Grey
Eye color
 Green
Skin color
 Light
Body shape
 Thin
Abigail Rourke (née Mattin) is the snooty rich matriarch of the Rourke family, residing in Moonlight Falls. She is the daughter of Mary and Clar Mattin, the wife of Wendell Rourke and the mother of Elenore, Matthew and Hannah Rourke. She is also the grandmother of Evelyn Kevi.
Early Life
Edit
As a teenager, Abigail preferred to be called Gail and was somewhat rude, however she was still ladylike. Growing up as the only daughter of the wealthy Mattins, Abigail was spoiled to the core. She was a very pretty girl and caught the eye of someone even wealthier than herself; Wendell Rourke. Even though she would constantly pick on him, Abigail started falling in love with Wendell, who had already fallen for her. Once her mother learned of her crush on Wendell, she arranged for their dates.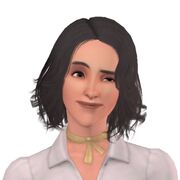 Abigail and Wendell dated from the beginning of high school on - graduating together and getting married 3 days later. When they became Young Adults, Abigail became nauseous one morning, alarming Wendell who took her to his parents where the couple found out they were expecting their first child. Elenore was born and the two doted on her. Some time passed, Abigail and Wendell raised Elenore without thinking of having more kids. However, when the two became Adults, Abigail found out she was pregnant with Matthew. Shortly after Matthew, came the little ginger-haired Hannah. While neither Abigail or Wendell could figure out just how Hannah turned out with orange hair, they loved all three of their children and watched them grow up. 
Abigail was uneasy when Jack Kevi, a middle-class athletic-type, started coming around with Elenore. She didn't like that he was poor, because she didn't like anyone poor. Watching as Elenore grew into her teens with Jack by her side made her furious, however she kept quiet and watched how Hannah and Matthew stayed floating around romances, not settling down with anyone lower than upper-class. 
After Elenore moved out, Abigail got an invitation to Elenore and Jack's wedding. She met with her daughter and said the only way she would accept the marriage would be if Elenore stayed a Rourke and didn't take Jack's last name. Elenore tried fighting, but Jack stated he didn't mind, so long as their children would be Kevis. Abigail agreed and attended the wedding with Wendell, Matthew and Hannah. 
Elderhood
Edit
Never having to work and having been spoiled her entire life, Abigail is a bitter old woman. Insulting and then hugging Wendell for hours. She was absolutely overjoyed however when Elenore, Jack and their little Evelyn moved back home after Elenore's house burned to the ground. Despite this happy reunion, Abigail gets a bad feeling whenever she is near the pool, now that Jack is living in the house.
Her fears have been confirmed. Abigail went swimming with Wendell sleeping on the lounge chair. With her husband asleep, Jack came and took the pool ladder away, leaving Abigail to drown. She was unaware that Wendell had passed from Old Age moments before.
Wendell took Abigail to Al Simhara, where she went to the temple of Queen Hatshepsut.
Abigail and Wendell married on a Tuesday.
Abigail proposed to Wendell. 
Abigail hates Supernaturals. 
Community content is available under
CC-BY-SA
unless otherwise noted.