Line 5:
Line 5:
 

}}

 

}}

 

'''Edit Town''' is a powerful game mode in ''[[The Sims 3]]'', which allows the player to edit and customize the [[neighborhood]] in the active saved game file. Edit Town lets the player control many aspects of the neighborhood outside of the currently-active household, including [[lot assignment]], and allows the player to enter [[Buy Mode]] and [[Build Mode]] on neighborhood lots, even on community lots. This mode largely takes the place of the Neighborhood menu available in ''[[The Sims]]'' and ''[[The Sims 2]]''.

 

'''Edit Town''' is a powerful game mode in ''[[The Sims 3]]'', which allows the player to edit and customize the [[neighborhood]] in the active saved game file. Edit Town lets the player control many aspects of the neighborhood outside of the currently-active household, including [[lot assignment]], and allows the player to enter [[Buy Mode]] and [[Build Mode]] on neighborhood lots, even on community lots. This mode largely takes the place of the Neighborhood menu available in ''[[The Sims]]'' and ''[[The Sims 2]]''.

 
+

==Getting into Edit Town==

 
+

Player can enter the edit town by opening up the options menu in the bottom left corner of the screen. [[File:Edittown-p3.jpg|thumb|164px|Edit Town button in the options menu]]

 

==Notes==

 

==Notes==

 

*If you own community lots, this is a good way to renovate for more stars without paying a simoleon.

 

*If you own community lots, this is a good way to renovate for more stars without paying a simoleon.

 
+

==Trivia==

 
+

*In the Edit Town mode, player can also create a new family and place a copy of it or of existing one from library to world. Later, player can switch from instantly playing family to control another one using Edit Town.

 
+

*Player can enter in Edit Town of all neighborhoods and sub-neighborhods that exist in [[The Sims 3]].

 
+

*As of [[The Sims 3/Patch 12|Patch 12]], player can add, delete and move residential lots, comunity lots and neighborhood decorative objects from the Edit Town menu.

 
+

[[File:Edittown-p1.jpg|thumb|left|294px|Player can add, delete and move lots]]

 
+
 
+
 
+
 
+
 
+
 
+
 
+
 
+

[[File:Edittown-p2.jpg|thumb|left|294px|Player can add, delete and move neihghborhood decorative objects]]

 
+
 
+
 
+
 
+
 
+
 
+
 
+
 
+
 
 
 

{{Stub}}

 

{{Stub}}
---
Revision as of 19:55, 23 September 2013
Edit Town is a powerful game mode in The Sims 3, which allows the player to edit and customize the neighborhood in the active saved game file. Edit Town lets the player control many aspects of the neighborhood outside of the currently-active household, including lot assignment, and allows the player to enter Buy Mode and Build Mode on neighborhood lots, even on community lots. This mode largely takes the place of the Neighborhood menu available in The Sims and The Sims 2.
Getting into Edit Town
Player can enter the edit town by opening up the options menu in the bottom left corner of the screen.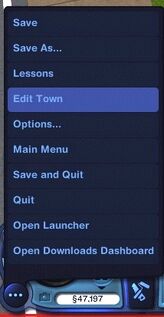 Notes
If you own community lots, this is a good way to renovate for more stars without paying a simoleon.
Trivia
In the Edit Town mode, player can also create a new family and place a copy of it or of existing one from library to world. Later, player can switch from instantly playing family to control another one using Edit Town.
Player can enter in Edit Town of all neighborhoods and sub-neighborhods that exist in The Sims 3.
As of Patch 12, player can add, delete and move residential lots, comunity lots and neighborhood decorative objects from the Edit Town menu.


Community content is available under
CC-BY-SA
unless otherwise noted.