Dramatic
is a social
trait
featured in
The Sims 3: Ambitions
.
Everyday situations in life deeply stir the imagination, emotions, and reactions of Dramatic Sims.
Attributes
Edit
There's a 60% chance Dramatic Sims will cry when they get a promotion.
Dramatic or over-emotional Sims will cry after watching a romantic channel on TV.
Dramatic Sims have 30% chance to wear their swimsuit instead of a cowboy costume while riding a mechanical bull.[

TS3:ST

]
Special Interactions
Edit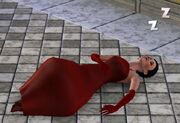 Dramatic Sims can fake passing out and get the "Thespian" moodlet. Other Sims may or may not react.
Dramatic Sims can whine about life to other Sims.
Dramatic Sims can tell dramatic stories without having to be friendly with other Sims first.
Player Notes
Edit
Dramatic Sims enjoy extra mood boosts when good things happen to them.
They respond with great enthusiasm to major, positive life events like marriage, or having a child.
Dramatic Sims receive negative moodlets when undertaking menial tasks, such as taking out the trash.
Strangely, the Dramatic trait does not help with writing drama books.
Special Moodlets
Edit
| Image | Moodlet Name | Notes |
| --- | --- | --- |
| | Thespian | Appears after Dramatic Sims fake pass out. |
Premade Dramatic Sims
Edit
Cho Sonwhun, Carl Zoni, Cat Stielburg
See also: Category:Dramatic Sims
Traits in The Sims 3
Absent-minded
Artistic
Avant garde
Bookworm
Can't stand art
Computer whiz
Eccentric

Gatherer
Excitable
Genius
Green thumb
Handy
Insane
Natural cook

Neurotic
Nurturing
Perceptive
Photographer's eye
Savvy sculptor
Unstable
Virtuoso
Heavy sleeper
Hydrophobic
Light sleeper
Lucky
Loves the cold
Loves the heat
Born salesperson
Brooding
Charismatic
Commitment issues
Dislikes children
Diva
Dramatic
Easily impressed
Flirty
Friendly
Good sense of humor

Great kisser
Grumpy
Hopeless romantic
Inappropriate
Irresistible
Loner
Loser
Mean spirited
Mooch
Natural born performer
No sense of humor

Party animal
Proper
Schmoozer
Shy
Snob
Social butterfly
Socially awkward
Supernatural fan
Supernatural skeptic
Unflirty
Adventurous
Ambitious
Angler
Animal lover
Bot fan
Cat person
Childish
Daredevil
Dog person
Eco-friendly

Equestrian
Evil
Family-oriented
Frugal
Good
Hates the outdoors
Hot-headed
Kleptomaniac
Loves the outdoors
Night owl

Over-emotional
Perfectionist
Rebellious
Star quality
Technophobe
Vegetarian
Vehicle enthusiast
Workaholic
Allergic to fur
Conversationalist
Cultured
Easily Bored
Easy going
Flip flopper


Gadget geek
Hyperactive
Loves water
Megalomaniac
Outgoing
Paranoid


People pleaser
Procrastinator
Shy
Sleaze
Vain
Witty

Hidden traits