Donia Spinelli

Gender
Female
Age
Elder
Life state
Sim
Biography
Roaring Heights has everything a lady could want, plus much more!
Education and employment
Career
Henchman
Family
Family/Families
Spinelli family
Parents
Unknown
Marital status
Single
Personality
Traits
Hot-Headed
Kleptomaniac
Evil
Ambitious
Mean Spirited
Zodiac sign
Gemini
Lifetime wish
The Emperor of Evil
Favorites
Classical
Autumn Salad
Red
Appearance
Hair color
Blonde
Eye color
Brown
Skin color
Tan
Body shape
Thin
Other information
Game
The Sims 3 Store
Playability
Playable
World
Roaring Heights
Donia Spinelli is a pre-made Sim, living in Roaring Heights. Her family biography states that she is bad to the bone, and wants to prove that she is the true leader of the town instead of Clark Houveir, whom she is enemies with, along with her enemy's wife.
Donia lives in an apartment at the city center. Her living room is located in the second floor, in which her bathroom contains a stair which leads into a basement, where it reaches a kind of prison with several cells.
Donia works in the Criminal career as a Henchman (level 7). She is 3 levels away from achieving her lifetime wish, which is to reach level 10 of her career (Evil branch). She has 5 skill points in Athletic and three in Logic. Outside of her home, she is acquainted with local babysitter Catherine Kramer, mail carrier Clifford Moore, her boss, and enemies with Clark and Louise Houveir.
Despite being an elder, she has blonde hair with brown eyebrows, implying she may have dyed her hair.
She is most likely a spoof of famous crime boss, Juanita Spinelli.
Donia Spinelli is mentioned in two of the object descriptions from The Sims 4: Movie Hangout Stuff.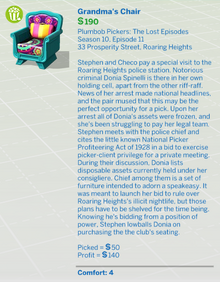 Community content is available under
CC-BY-SA
unless otherwise noted.