Diwan family

Description
Special Agent Taj Diwan is deep undercover in his investigation of the drained lake bed and the Sims who live there! To aid his deception he's brought his family with him. Aided by his dedicated and supportive wife, Zahra, he has infiltrated the small neighborhood and is investigating criminal activities in the area.
Name
Diwan family
Members
Taj Diwan, Zahra Diwan, Sahan Diwan
Number of generations
2 generations
Family connections
Sparks family
Lot
117 Lakeside Drive
Funds
§10,000
Difficulty level
Other information
Game
The Sims 3 Store
Playability
Playable
World
Lucky Palms
The Diwan family is a premade family who lives in Lucky Palms. The family consists of the married couple, Taj and Zahra, and their son, Sahan. The family just recently moved to the deserted part of the town to investigate the drained lake of Lucky Palms. Taj is an undercover specialist, and it's his duty to investigate the criminal activities that are related to the lake. He brought his family along to help cover his identity. Zahra supports her husband's duty, but Sahan is against him. This leaves them with broken relationships as they now dislike each other. The family mainly focuses on the conflict between Taj and Sahan, while Zahra only has a supportive role in the family.
The family bio that mentions Taj's intention to move in Lucky Palms suggests that the large crater in the middle of the desert used to be a lake, and it could have been drained by some criminals. This is further evidenced with the street name nearby the crater being Lakeside Drive, a small pond that appears to be the remainder of the lake, and a criminal warehouse and science lab near the lake.
Family tree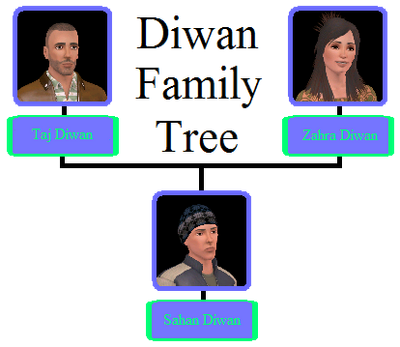 Members
Community content is available under
CC-BY-SA
unless otherwise noted.