Desiderata Valley

Serenely nestled in the hills, Desiderata Valley is a place of dreams, hopes and aspirations. Many have found the quiet hills a wonderful place to relax and pursue their favorite pastimes. Who knows what destiny has in store for the Sims of Desiderata Valley?
Name
Desiderata Valley
Game
 The Sims 2: FreeTime
Onomatology
Desiderata Valley ( /dɪˌsɪdəˈreɪtə ˈvæli/ or  /dɪˌsɪdəˈrɑːtə ˈvæli/) is the pre-made neighborhood that is added to the game with the addition of The Sims 2: FreeTime. It features a number of new families and stories. It concentrates on building hobby skills. It is described as a relaxing, quaint town.
Lots
[
]
Residential lots
[
]
Inhabited
[
]
Uninhabited
[
]
Community lots
[
]
Families
[
]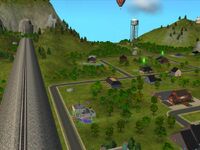 Townies and NPCs
[
]
Townies
[
]
NPCs
[
]