Clavell family

Description
Xander Clavell is a party animal still living in his parents' house. Buster is tired of Xander's mooching and wants him out. Will Bessie have to choose between her son and her husband?
Name
Clavell family
Members
Buster Clavell, Bessie Clavell, Xander Clavell
Number of generations
3 generations
Lot
306 Skyborough Boulevard
Funds
§2,800
Difficulty level
Other information
Game
The Sims 3
Playability
Playable
World
Sunset Valley
The Clavell family is a premade family that was shipped with The Sims 3 who lives in Sunset Valley. Buster and Bessie Clavell are two Sims well into the elder state. Both still have full-time jobs because their near-adult son Xander is still living with them, and has no plans to move out. He has the Mooch and Party Animal traits, but is also at the beginning of the Criminal career track. Xander, and his parents, may be a spoof of Tripp, and his parents, from Failure To Launch.
Onomatology
Ransom Clavell: Derived from random, meaning "all outcomes being unpredictable and, in the ideal case, equally probable; resulting from such selection; lacking statistical correlation." Or Ransom could be in the sense of holding someone to ransom.
Jennie Clavell: "A diminutive of Jane and Jennifer, also used as a formal given name." Could also mean, "a female given name borrowed from English in the eighteenth century."
Buster Clavell: Trouble-maker, or an uncool person. Can also mean a guy or friend.
Bessie Clavell: Short for Elizabeth, meaning "my God has sworn" in Hebrew.
Xander Clavell: "A male given name of modern usage, a short form of Alexander."
Family tree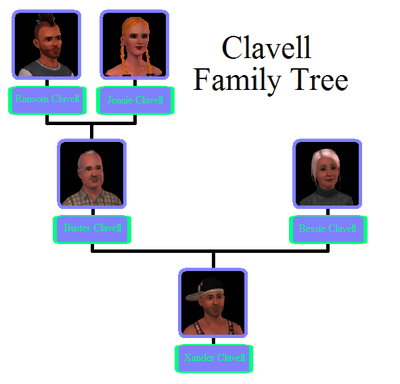 Members
Clavell Home
Victor's Abode (2br,2.5ba)
"A Sim's home is his castle. This Victorian home makes for a cozy retreat."
Size - 30x20
Address - 306 Skyborough Blvd
Community content is available under
CC-BY-SA
unless otherwise noted.