Tags:

apiedit

,

Visual edit

Line 25:
Line 25:
 

==References==

 

==References==

 

<references />

 

<references />

 
+
 
+

[[fr:Défi saisonnier]]

 

[[Category:The Sims 4]]

 

[[Category:The Sims 4]]

 

[[Category:Patches and updates]]

 

[[Category:Patches and updates]]
---
Revision as of 09:00, 21 May 2017
Not to be confused with Player challenge.
A challenge event is a temporary seasonal challenge in The Sims 4, added via patch. These events can offer new items and interactions as rewards if the player completes the goal in time. Most Events will be started by talking to Jasmine Holiday.
Bunny Egg Hunt
Time-limited challenges were introduced through a free update in March 2015. The Egg Hunt ran through the month of April. This month, Sims might find some interesting decorative eggs scattered around the world. There were 10 different designs in all, and they were part of a new collection that was only available for a few weeks. Successfully collecting them all would unlock a giant stuffed bunny.[1] The Bunny Egg Hunt returned the following year, allowing players to collect decorative eggs once again.
#TeamTrick vs. #TeamTreat
The Trick or Treat challenge started on October 23 and ran through October 31, 2015. Continuing the theme of the previously released stuff pack The Sims 4: Spooky Stuff, two new interactions (Trick and Treat) were temporarily available. The player then needed to choose between them to help unlock different items in the game. #TeamTrick had a demonic door, a skeletal fish in a spooky bowl, and an interactive chest; and #TeamTreat had a lion door, a candy fish in a delicious bowl, and a usable chest of its own. Every three days, the two sides were trying to make their team's version of the item the winning one. In the end, only one of each version would make it into the game. However, eventually everyone would get the items.[2]
Spring Challenge
Jasmine Holiday was introduced for the first time on March 22, 2016. After building a relationship with her, the player would receive a Growfruit seed as a special one-time offering. The player could then plant a Growfruit tree. For 20 Growfruit Jasmine would unlock a new planter as a reward and for a perfect Growfruit she'd unlock another fancier planter. There was also a second annual Bunny Egg Hunt. This time, there were 12 Eggs to collect, and if the player gathered them all, they'd unlock an adorable stuffed bunny.[3]
Triple Boost Week
For a Week in late August 2016, your Sims could gain Skills at three times the usual rate, or gain a triple Job Performance Boost for base game Careers. All they'd need to do is head over to Jasmine Holiday (or call her on the phone) to get granted with seven in-game days of Skill or Career Boosts. Sims could do it as many times as the player wanted during that period, but Sims would only be able to have one at a time, though – asking for a Skill Boost when you already have a Career boost would cancel the other one.[4]
Day of the Dead
The Day of the Dead Challenge lasts for a month from October 4 to November 4. Jasmine Holiday returns and will provide the player with information about the event and the Sugar Skull Display Case. From there, the player's Sim can head out and meet Day of the Dead Celebrators in their neighborhood, and use the "Ask for Sugar Skull" interaction. When a Sim has collected all of the ones available, a final Sugar Skull will be unlocked for completing the collection. Once a Sim has filled up their display case with all 10 Sugar Skulls, the case unlocks a new interaction called "Honor the Dead". This gives the Sim a moodlet that unlocks new interactions with the Grim Reaper, increases their relationship gain with him and also gives a high chance of success when pleading for another Sim's life.[5]
PlantSim Challenge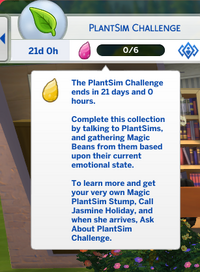 PlantSims are added as a temporary moodlet Sims can get after eating a Forbidden Fruit.
PlantSims can be made by a Sim eating a Forbidden Fruit from going into the Mystical Magic Bean Portal Tree, or growing the seed to make more Forbidden Fruits. PlantSims have a Water need replacing the Bladder and the Hunger need's description is changed to talk about sunlight. PlantSimism is a temporary life state that lasts 5 days and can be reapplied by eating more Forbidden Fruits. PlantSims have special moodlets for being out in the sun and being in water which boosts their happiness.
References
Community content is available under
CC-BY-SA
unless otherwise noted.