Cavalier Cove

Known for its hiking trails and sprawling coastal properties, Cavalier Cove is the perfect place to go exploring or chase seagulls with an adventurous pup!
Name
Cavalier Cove
World
Brindleton Bay
Game
 The Sims 4: Cats & Dogs
Cavalier Cove is a neighborhood in Brindleton Bay. It features large areas to walk dogs, a creek, a beach, and bushes for pets to hunt in.
The neighborhood consists of five residential lots, with one occupied by the Delgato family, two unoccupied lots, and two empty lots.
Chateau Frise
Edit
"With gorgeous porches, a backyard swimming pool, and a phenomenal view of the Brindleton Light, this Dutch colonial is one of the most admired properties in the Bay."
Chateau Frise is a large three-story home, owned by the Delgato family. The house includes a living room, a dining room, a bathroom, an office room with a medicine crafting table, and a large open room with a kitchen on the first floor. There also multiple balconies and a pool in the backyard. The second floor includes three bedrooms, two bathrooms and three balconies. The third floor is a large inaccessible single room, allowing space for a possible expansion to the house.
Bedlington Boathouse
Edit
"Tucked away between the expensive mansions of Cavalier Cove is this humble little cottage. Nothing says "beach access" like living right on the beach!"
Bedlington Boathouse is a small, uninhabited house, located right next to a large beach. The house has two floors, with the first floor having a kitchen, a bathroom, a dining room and a living room, and the second floor being a single bedroom. The house also has a slight amount of room outside, enough to fit a small garden. It is a perfect starter home.
Hound's Head
Edit
"The largest property in Brindleton Bay- and with its very own private beach - Hound's Head has housed a variety of rich and powerful pets (and their owners) through the ages."
Hound's Head is an uninhabited house and is the most expensive and biggest lot in the neighborhood. It contains four bedrooms, three bathrooms, a living room with a piano, a dining room with a bar, a large kitchen, and various balconies. The house also has a very large outdoor area with a pool.
Dachshund's Creek
Edit
"Easy access to the creek below makes this property a must-own for nature-loving homebuilders. You don't want to wait for your life to be over- purchase this property and get building!"
Dachshund's Creek is one of the two empty lots of Cavalier Cove. It is located next to a small creek, offering an easy pathway to the beach. Behind the lot is also a hill with a single bench, where Sims can admire the view.
Hindquarter Hideaway
Edit
"The Hindquarter Hideaway may be the furthest property from the water's edge, but the small fishing pond nearby more than makes up for it."
Hindquarter Hideaway is one of the two empty lots of Cavalier Cove. It is located right next to Dachshund's Creek and has a fishing spot nearby.
Neighborhood amenities
Edit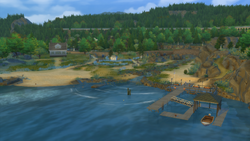 Cavalier Cove is a very large neighborhood located right on the seaside, offering lots of space for Sims and their to explore. The neighborhood includes a big beach as its main attraction. It contains various wooden walkways with picnic tables, grills and benches, along with a pier, that has a boat which Sims can use to access Deadgrass Isle. Other activities on the beach are fishing spots and bushes for pets to hunt in.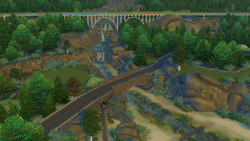 Opposite of the beach there is a small creek, located next to the two empty lots of the neighborhood. Going over the creek is a highway, that Sims can go under in order to access Hindquarter Hideaway residing on a hill. Next to Hindquarter Hideaway is a small patch of grass with a pond, that has a fishing spot.
Community content is available under
CC-BY-SA
unless otherwise noted.