See also: Career
A list of career tracks in The Sims series.
Career tracks table
Career
The Sims
The Sims 2[1]
The Sims 3
The Sims 4
Careers, professions, and self-employments
Acrobat
Adventurer
Alchemist
Angler
Animal Care
Architecture
Art Appraiser
Artist
Astronaut
Astronomer
Athletic
Band
Bot Arena
Bot Builder
Business
Circus
Crafter
Criminal
Critic
Culinary
Dance
Daycare
Education
Entertainment
Fame
Fashion
Film
Firefighter
Fortune Teller
Game Development
Gamer
Gardener
Gatherer
Ghost Hunter
Hacker
Horseman
Hunter
Intelligence
Inventor
Investigator
Journalism
Law
Law Enforcement
Lifeguard
Magician
Medicine
Military
Music
Natural Scientist
Nectar Maker
Oceanography
Painter
Paranormal
Photographer
Politics
Science
Scuba Diver
Sculptor
Secret Agent
Singer
Slacker
Social Media
Sports Agent
Tech Guru
Writer
Xtreme
Part-time jobs
Alien Test Subject
Babysitter
Barista
Bookstore Clerk
Fast Food Employee
Film
Grocery Store Clerk
Manual Laborer
Mausoleum Clerk
Receptionist
Retail Employee
Spa Specialist
Pet careers
Security
Service
Showbiz
↑ Also includes careers in The Sims Stories series - The Sims Life Stories, The Sims Pet Stories and The Sims Castaway Stories.
The Sims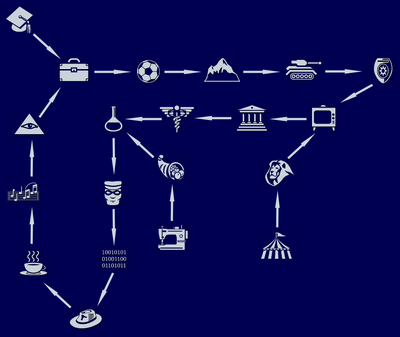 The Sims base game careers
The Sims Bustin' Out for console free play careers
Mower Madness
Smoothie Slider
Powerlifter
Bait Flinger
Jam Session
Pizza Pandemonium
Cliff Diver X
Petri Dish
The Sims 2
Pets careers (for pets)
The Sims Stories
The Sims Life Stories
The Sims Castaway Stories
The Sims 2 console
Business
Clothes Manager[confirmation needed]
Education
Government
Law Enforcement
Park and Recreation
Science
The Sims 3
All new careers are connected to the new social groups:
Alien Test Subject
Bookstore Clerk
Film
Grocery Store Clerk
Mausoleum Clerk
Receptionist
Spa Specialist
Alchemist
Angler
Band
Bot Builder
Gardener
Horseman
Inventor
Nectar Maker
Painter
Photographer
Scuba Diver
Sculptor
Writer
The Sims 4
Each career track introduced in The Sims 4 base game has two branches.
Each career track introduced in The Sims 4: City Living has two branches.
Critic

Arts Critic Branch
Food Critic Branch

Politician

Politician Branch
Charity Organizer Branch

Social Media

Internet Personality Branch
Public Relations Branch
Part-Time Jobs
Teens can take a part-time job in addition to attending high-school.
The Sims Online
Restaurant
In this job, Sims go to work at a restaurant (different restaurant at higher levels in their career) and would take NPC's orders, place them in the ticket machine, and bring them their food when it was finished.
Robot Factory
In this job, Sims would have to operate and maintain machines in a factory to produce robots. Players were paid for every robot made.
Night Club
In this job, Sims would go to the club into the workers door and either work DJ or Dancer. They would be in competition with three other DJ/Dancer teams to get the most NPC guests in their area.
Community content is available under
CC-BY-SA
unless otherwise noted.