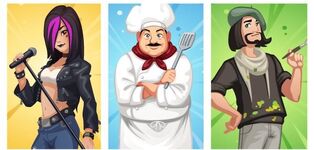 Careers in The Sims Social are similar to careers or jobs in other games in The Sims series. Careers were added to the game on 22 March 2012.[1]
Career in The Sims Social
Edit
In The Sims Social, career is a feature that allows players to give their Sim a job, and gain promotions by doing it. Each time a Sim promoted, they gained a reward.
Job/Appointment
Edit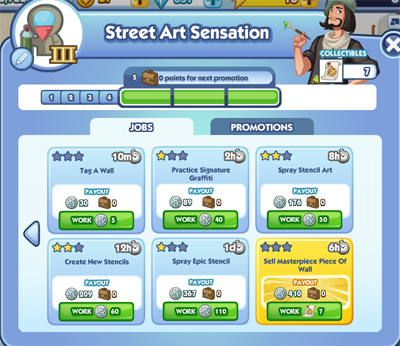 Job/appointment is a task on career (each career title has different task). You'll earn Simoleons, XP, Career Points, Career Tokens (rare) after finished an appointment, which help you to get promoted later.
When the appointment is finished click 'Go To Work' button to get them. Instead going outside home to work, you just need to wait for specified time to finish a job (your Sim can do other things in his/her house). Every job/appointment has different time needed to be finished. If you come on time, you will get a bonus!
Each career title has stage, and everytime you went to next stage, you need to finish quest.
To continue to the next stage/promotion, you will be presented to a quest, and it requires elements, tokens, upgrading job stars, skill, etc. to be finished. For the stage, it gives you nothing (only level-up), but for the promotion, it gives you rewards.
Promotion
Edit
As you earn Career Points and finished the stages, overtime you will be presented to a quest which will promote you to new title! After you finished the quest, you'll get rewards (each career has different rewards) and new title. You will also have a new different jobs/appointments.
Career Points and Tokens
Edit

Career Points and Tokens earned from jobs/appointments. Career Points are used to finished stages, while Career Token are used to finish career quests. Each career has different token.
Career List
Edit
Currently, there are three different Careers available (you only able to choose one in one time):
| Image | Career Name | Related Skills | Token |
| --- | --- | --- | --- |
| | Celebrity Chef | Cooking skill | |
| | Rock Star | Music skill | |
| | Art Master | Art skill | |
Promotions
Edit
Celebrity Chef
Level
Name
Reward

Career Points Needed Total

1
Dish Washer
UltraJet X007 Dishwasher
300x3 stage
2
Burger Flipper
McBurga

™

Uniform Top
500x3 stage
3
Sandwich Artist
MmmToasty®Pro Grill
700x3 stage
4
Prep Chef
Le Chef Hat
900x3 stage
5
Cooking Show
Expert Cook trait
1100x3 stage
Rock Star
| Level | Name | Reward | Career Points Needed Total |
| --- | --- | --- | --- |
| 1 | Air Guitar Player | BoB Plaque Winner | 300x3 stage |
| 2 | Karaoke Singer | GrabIt 500 Mic and Stand | 500x3 stage |
| 3 | Street Performer | guitar | 700x3 stage |
| 4 | Garage Band Musician | RokOWT! T-Shirt | 900x3 stage |
| 5 | Web Sensation | Music Maestro trait | 1100x3 stage |
Art Master
Level
Name
Reward

Career Points Needed Total

1
Canvas Stretcher
Bella Lisa
300x3 stage
2
Serial Doodler
Mr Artsy

™

Pro Draftsman Table
500x3 stage
3
Cereal Box Artist
Annual Cereal Awards Trophy
700x3 stage
4
Web Comic Artist
Amazing Mike T-Shirt
900x3 stage
5
Street Art Sensation
Art Virtuoso trait
1100x3 stage
References
Edit
Community content is available under
CC-BY-SA
unless otherwise noted.