Bonehilda

248px
Name
Bonehilda
Gender
Female
Age
Adult
Life state
Sim
Appearance
Body shape
 Thin
Bonehilda
is an NPC that was introduced in
Makin' Magic
. There are two versions of Bonehilda in the game. One is the
janitor
on some
Magic Town
lots. The other can be bought on
residential lots
as a magical (and much cheaper) equivalent of
Servo
. This version of Bonehilda is literally a "skeleton in the closet".
While the "skeleton maid" version of Bonehilda is generally equivalent to Servo, there are significant differences:
Things Bonehilda does that Servo doesn't
Feed a baby. Somehow, she manages to do this without waking the baby.
Bring in the newspaper.
Things Servo does that Bonehilda doesn't
Garden.
Attempt to entertain visitors. In fact, non-magical visitors will freak out if they see Bonehilda in action. A walking skeleton is one thing in Magic Town, and quite another in someone's home!
Serve food.
Misc. differences
Bonehilda seems to place a higher priority on repairing. She'll probably repair a broken dishwasher or sink before trying to use it.
Players can send Bonehilda back to her closet by clicking on her and selecting "Dismiss".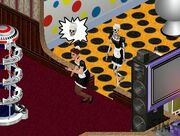 Bonehilda also has a few quirks. If a bar is present, she'll take a drink before heading back to her closet. Naturally, the drink will flow through her and leave a puddle on the floor. If tombstones are present, she may wave to one of them before going back to her closet. She is also a fan of the Grim Reaper, and will try to get his autograph if he appears while she's out of her closet.
Community content is available under
CC-BY-SA
unless otherwise noted.