Bluewater Village

Come enjoy an exciting new shopping and entertainment destination! If you're looking to update your closet, your image or your family room, Bluewater Village will have something for you.
Name
Bluewater Village
Game
 The Sims 2: Open for Business
Onomatology
Bluewater Village is a shopping district sub-neighborhood that was introduced in The Sims 2: Open for Business expansion pack. Bluewater Village can be added to all neighborhoods and played separately in each. There are seven pre-created families in Bluewater Village. Five already have homes and two are in the family bin. Bluewater Village doesn't have a long neighborhood story, as the main idea is for the residents to make money and expand their businesses. The community lots are all designed to be run as owned businesses. All deceased Bluewater Village Sims can be resurrected in game, though none of them have graves.
Lots
[
]
Residential lots
[
]
Inhabited
[
]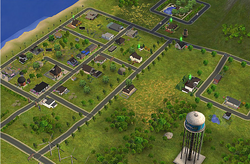 (All owned are considered households.)
Uninhabited
[
]
Community lots
[
]
Families
[
]
Playable families
[
]
Deceased Sims
[
]
Townies and NPCs
[
]
Townies
[
]
NPCs
[
]