Birthday


Dustin Broke on his birthday
"Grow up" redirects here. For the aspiration Grow Up, see Grow Up.
Birthdays occur when Sims go to their next stage of life. Whenever a Sim is two days away from the next age transition, a warning will pop up in the top right corner alerting the player that there are only two days to either get the Sim's aspiration score up (if the Sim is in the negative), or that there is nothing to worry about since the Sim's aspiration is already high.[TS2]
Twenty-four hours after that warning, the player will get another alert stating that the Sim can age. The player can either buy a birthday cake in buy mode[TS2], the supermarket,[TS3] make one by themselves,[TS4] or click on the Sim (as long as they are not babies[n 1]) and choose "Grow Up". In order for a baby to grow up, a Sim (teen or older) must take the baby to a cake or wait until they (autonomously) get the interaction to "Help Grow Up" eventually.
Sims grow up well or grow up badly depending on their aspiration score at the time of transitioning[TS2], how well they did in school or learned toddler skills. A Sim growing up well will have player chosen traits, while a Sim growing up badly will develop a negative trait.[TS3]
In The Sims 4, Sims who don't blow out their candles, or who never have a party on time, will receive a sad "Forgotten Birthday" moodlet.
Progression
Sims progress from birth, through infancy and on to old age and, eventually, death. The following chart shows which life states are available in each game. Unless otherwise noted, Sims progress through each life stage in order from left to right.
| Game | Baby | Toddler | Child | Teen | Young Adult | Adult | Elder | Notes |
| --- | --- | --- | --- | --- | --- | --- | --- | --- |
| The Sims | Yes | No | Yes | No | No | Yes | No | Children do not grow up into adults, and adults do not die of old age |
| The Sims 2 | Yes | Yes | Yes | Yes | No | Yes | Yes | |
| The Sims 2: University | Yes | Yes | Yes | Yes | Optional | Yes | Yes | Teens can go to college and become young adults, or skip college and go directly from teen to adult |
| The Sims 3 | Yes | Yes | Yes | Yes | Yes | Yes | Yes | |
| The Sims 4 | Yes | Yes | Yes | Yes | Yes | Yes | Yes | Toddlers were added in a patch released January 12, 2017. |
Related moodlet
The Sims 3
| Image | Moodlet Name | Mood Effect | Time Period | From | Game Dialog/Description | Notes |
| --- | --- | --- | --- | --- | --- | --- |
| | Celebrated Birthday | +40 | 24 Hours | Celebrating Birthday | Birthday parties are the best! | Throw a birthday party and blow out the candles. When blowing out candles, a fire may start. |
The Sims 4
| Image | Moodlet Name | Effect | Emotion | Time Period | From | Game Dialog/Description | Notes | EP |
| --- | --- | --- | --- | --- | --- | --- | --- | --- |
| | Birthday! | 1 | Happy | | Birthday Party | Birthdays are fun! Heck, any party is a good time. But a celebration with a personal cake? Woo! | | |
| | Birthday Joy | 2 | Happy | 4 Hours | Birthday Party | Nothing helps take away the pain of getting older like having a good party. | | |
| | Forgotten Birthday | 1 | Sad | 12 Hours | Forgotten Birthday | (Sim Name) forgot to have a party for his birthday. Or maybe no one wanted to come? Either way, it's very sad. | Allow the Sim to age up automatically instead of using the birthday cake. The "From" label will also be "Forgotten Birthday". | |
Player tips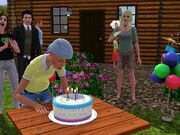 Sims will age at 18:00 (6 PM) in The Sims 2. A Sim's age will advance at 00:00 (12 AM) in The Sims 3, but Sims will not advance to the next life stage at any particular time.
Using a birthday cake brings everyone on the lot to watch and blow noise-makers.
A Sim can throw a birthday party but it is not required to age.
If left alone, on the last day of the Sim's age period, they will age on their own.
In The Sims, babies will eventually grow up into children, but children will never grow up into adults. The only way to age a child into an adult is by using the Age of Instant charm (needs Toadstools and 2x Dragon Scales) in The Sims: Makin' Magic.
It is possible to have a birthday in The Sims by buying a birthday cake and throwing a party; however, the Sim blowing out the candles will not age up from doing so.
Always buy cake for babies because of the time restrictions on when a Sim ages. Sims may be constantly interrupted by the autonomous interaction but never succeed in aging the baby.[TS2]
Wait until a Sim's mood is not in the red zone before aging them.[TS2]
A birthday cake will grow the Sim to the next life stage regardless of how many days remain.[TS3]
Using the testingcheatsenabled true, players can age up Sims by shift-clicking one and choose the "Trigger Age Transition." That way, players can make them die from old age instantly as well.[TS3]
Notes
↑ The grow up self interaction can be used for a baby if it is made selectable with a cheat