Belladonna Cove

From far and wide, Sims have been drawn to beautiful Belladonna Cove! Some are looking for a quiet place to settle down, others to tango with the hustle and bustle of the more exciting districts and a distinct few who have been drawn by rumors of mystical energies. Will they all be able to get along?
Name
Belladonna Cove
Game
 The Sims 2: Apartment Life
Onomatology
Belladonna Cove ( /ˌbɛləˈdɒnə koʊv/) is a neighborhood included in The Sims 2: Apartment Life. It may be named after Bella Goth, as there is a statue of Bella holding a PlumbBob in the center of the city. Additionally, "bella donna" in Italian means "beautiful lady," which may refer to Bella Goth. Belladonna is also another name for deadly nightshade, a highly poisonous plant that was allegedly used by witches, so the name might allude to the fact that witches are now introduced into the game.
The neighborhood contains apartment lots as well as normal residential and community lots. Belladonna Cove is the largest neighborhood of The Sims 2, both in population and physical size. Belladonna Cove has many distinct districts: slums, a trailer park, an industrial zone, a Central Park, the city's core, the suburbs, a modern district, and the Hills, a fancy neighborhood where the high-class residents live. One thing often unnoticed about Belladonna Cove is its relative wealth. On average, Sims living in the poorer area of Belladonna Cove have around §13,000, while those living in the wealthy area have §50,000 to §227,000. In contrast, most families in Pleasantview start out with around §1,000.
Lots
[
]
Residential lots
[
]
Inhabited
[
]
Uninhabited
[
]
Apartments
[
]
Community lots
[
]
Families
[
]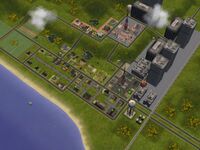 Playable families
[
]
§58,297
Isabel and Benjamin have a great life together – things are next to perfect right now. Will Isabel's uncle, Carlos, (and his wild exploits) bring shame to the family name?
§16,221
Vivian finds being a single Mom challenging. Work is demanding and when she gets home Etsu wants all of her attention. Vivian still wants to find true love again. She wonders if she can find time to spend time with that nice man down the hall.
§42,768
§83,947
Carlos had a career that was the stuff of legends but even more legendary were his romantic pursuits. Now that he's thinking about retirement he's trying to focus on his niece Isabel and her family. But his romantic nature is still strong and Belladonna Cove is filled with such interesting possibilities.
§27,031
Samantha and Kimberly had such bad sibling rivalry they were asked to leave the pleasant, little town in which they had grown. Realizing that things between them needed to change they pursued a variety of self help ventures. While trying to find new ways to bond with each other, they made some mysterious new friends. Will calling on the power of their new found friends bind them closer together or pull them more apart?
§227,933
When Jessica left him Armand spent a few months sulking and thinking the sun would never come out again. But when he adopted little Tara, she convinced him otherwise. He couldn't be more proud of his heir!
§4,262
Gabriel has known Chastity since elementary school. Now that they are adults they've moved to Belladonna Cove and become roommates. Gabriel is so busy trying to learn everything there is to learn he hasn't noticed that Chastity has become a bit of a wild woman. Will she try to use her wild ways on him?
§25,976
They say women glow when they're pregnant and Ana is no exception. She can't wait for her new baby to arrive and is already dreaming about having more of them. Ramir hopes his heir will want to follow him into politics.
§14,325
When Armand DeBateau demanded an heir Jessica Peterson knew it was time to leave. She just didn't want to be tied down when Belladonna Cove was so filled with romantic possibilities. Of course when she left Armand she also left his vast fortune and standing in society. Can she make her own way?
§32,785
When Timothy Riley moved to Belladonna Cove he wanted to start a new life and make a solid future for his daughter. Then, he met Vivian Cho and now he hopes they can join forces. He thinks Sally would enjoy having a little sister.
§72,085
Geoff Rutherford knows all the right people but he's a bit of a rebel. He and Connor Weir became roommates so they could afford a place in the best part of Belladonna Cove. But sometimes they are at odds. Connor wants the party days to end so he can find his true path and start the family of his dreams. Geoff just wants to have fun.
Townies and NPCs
[
]
Townies
[
]
NPCs
[
]
Trivia
[
]
Belladonna Cove bears many similarities to New York City, especially the Central Parks (Central Park), the BC Public Library (NY Public Library), the wealthy district overlooking the park (Upper East Side), and the statue of Bella Goth (Statue of Liberty). Furthermore, the Bella Statue is in a lake, while the Statue of Liberty is in an ocean, both of which are bodies of water.
Many of Belladonna Cove's pre-made families have recent memories of moving out and in to a new home.
Unlike the pre-made deceased Sims of Pleasantview and Strangetown, most pre-made deceased Sims in Belladonna Cove have some memories, but not a complete set of life memories.
It is interesting to note that there is a "secret" lot in a corner of the map, which can be accessed by playing with the view mode, or by pressing 'tab'. The house on this lot looks like some retreats in Bon Voyage, mainly those in Twikkii Island, and it has a value of around §36,000.
Unlike the other neighborhoods, there are no male maids in Belladonna Cove.
Unlike the other neighborhoods, there are no female social bunnies in Belladonna Cove. This can be proven with SimPE.

However, all Belladonna Cove Social Bunnies must be manually moved to the NPC Sim Bin using SimPE in order for them to show up in-game, since none of them are placed in the NPC Sim Bin at the start of the game.

There are no pre-made repo-men in Belladonna Cove. They will be generated by the game once a Sim's red bills explode.
The industrial factory and pig balloon is likely based on the Pink Floyd album Animals.
A strange glitch occurs in Belladonna Cove where most of the ancestors of pre-made families cannot be married to their former wife/husband. This glitch applies to all the families in the neighborhood with the exception of the Green, Gere, Weir, and Cordial families.
A glitch in the neighborhood exists where the gravestones that were originally supposed to appear in the neighborhood would simply vanish, likely due to a developer's oversight. This can be corrected with the fixed neighborhood templates and the Hoodchecker tool.[1]
Deceased Sims
Adriana Green
Fabio Green
Sarah Green
Orion Green
Yelena Sendar
Marcos Sendar
Martha Weir
Bryant Weir
Kiara Weir
Juroden Weir
Pasha Dordrius
Gwendolyn Gere
Inigo Gere
Duarte Gere
Kelly Wacea
Joseph Wacea
Barbara Cordial
Danny Cordial
Artemis Cordial
Jeffrey Cordial
Coralia Passe
Sage Passe
Melanie DeBateau
Beaumont DeBateau
Deidre DeBateau
Jocques DeBateau
Mary Antross
Matthiew Antross
Etokas Cho
Emiko Cho
Sylvian Cho
Aresi Cho
Qiao Cho
Reiko Kimisha
Taku Kimisha
Thuyet Karana
Chandra Karana
Indira Karana
Sohan Karana
Veata Motoko
Minh Motoko
Olivia Riley
Lucia Riley
Seamus Riley
Aurelai Riley
Donovan Riley
Cecilia Kupyi
Paul Kupyi
Tazanna Caer
Sullivan Caer
Maeve Caer
Steve Caer
Christine Sarigar
Charlie Sarigar
Keesa Pater
Karan Patel
Priya Patel
Gidia Patel
Irina Sumanth
Tyral Sumanth
Maida Ejess
Owen Ejess
Bronwyn Ejess
Leroy Ejess
Taline Ivof
Mado Ivof
Melora Peterson
Jeff Peterson
Jennifer Peterson
Brycen Peterson
Cini Rotarra
Arkady Rotarra
Patience Baldwin
Sylvester Baldwin
Kimberly Baldwin
Alastair Baldwin
Damia Randrik
Ismet Randrik
Magdalena Contender
Santana Contender
Marisela Contender
Alonzo Contender
Kadri Contender
Lando Contender
Teigra Destraga
Maurus Destraga
Isabel Ellis
Junipero Ellis
Cybil Cleveland
Leon Cleveland
Andrea Cleveland
Marek Cleveland
Suzette Eltich
Milo Eltich
Leandra Rutherford
Kenneth Rutherford
Rosalyn Rutherford
Barry Rutherford
Shannon Melkin
Dmitri Melkin
References
[
]