For Bella's other appearances in The Sims 2 and The Sims 3, see Bella Goth (Strangetown) and Bella Goth (Lunar Lakes).
Bella Goth

Gender
Female
Age
Adult
Life state
Sim
Biography
Elegant and athletic are two qualities that describe Bella. She enjoys a variety of activities from golf to miniature golf.
Education and employment
Career
Unemployed
Family
Family/Families
Goth family
Marital status
Married
Romances
Mortimer Goth 
Children
Cassandra Goth 
Personality
Zodiac sign
Cancer
Appearance
Hair color
Black
Skin color
Medium
Body shape
Fit
Other information
Game
The Sims
Playability
Playable
Neighborhood
Neighborhood 1
Bella Goth

Gender
Female
Age
Adult
Life state
Sim
Biography
Bella - her name in Italian means "beauty" and it fits her better than her red leather corset. Descended from a long line of occultists, mystics and decadents, she has thrown convention to the wind. Her disdain for the pedestrian and normal is only matched by her sense of ennui and isolation. She distracts herself from this world with a little organ practice and exotic gardening of the lethal variety.
Education and employment
Career
Movie Star
Family
Family/Families
Goth family
Marital status
Married
Romances
Mortimer Goth 
Personality
Zodiac sign
Cancer
Appearance
Hair color
Brown
Skin color
Medium
Body shape
Thin
Other information
Game
The Sims Bustin' Out (console)
Playability
Playable
Neighborhood
SimValley
Bella Goth

Gender
Female
Age
Adult
Life state
Sim
Biography
A slightly-crazed woman you met on her way out of town.
Personality
Zodiac sign
Cancer
Aspiration
Romance
Appearance
Hair color
Black
Eye color
Brown
Skin color
Medium
Body shape
Thin
Other information
Game
The Sims 2 (PSP)
Playability
NPC
Neighborhood
Strangetown
Bella Bachelor

Gender
Female
Age
Child
Life state
Sim
Biography
Bella is probably the best dressed girl you'll ever see. She always looks adorable flitting around and talking to other kids, adults, and anyone who will listen.
Education and employment
School
Elementary School
Grade
B
Family
Family/Families
Bachelor family
Parents
Simis Bachelor, Jocasta Bachelor
Siblings
Michael Bachelor 
Personality
Traits
Lucky
Brave
Good
Favorites
Custom
Ratatouille
Red
Appearance
Hair color
Black
Eye color
Hazel
Skin color
Tan
Body shape
Thin
Other information
Game
The Sims 3
Playability
Playable
World
Sunset Valley
Bella Goth

Gender
Female
Age
Adult
Life state
Sim
Family
Family/Families
Goth family
Appearance
Hair color
Brown
Eye color
Brown
Skin color
Tan
Other information
Game
The Sims Social
Playability
Townie
Neighborhood
Littlehaven
Bella Goth

Gender
Female
Age
Adult
Life state
Sim
Family
Family/Families
Goth family
Appearance
Hair color
Black
Eye color
Green
Skin color
Tan
Other information
Game
The Sims Mobile
Playability
Townie
World
Briny Heights
Bella Goth ( /ˈbɛlə ɡɒθ/) (née Bachelor) is a pre-made, playable Sim that first appeared in The Sims, alongside her husband, Mortimer, and her daughter, Cassandra, residing at 5 Sim Lane. Between The Sims and The Sims 2, Bella and Mortimer had one more child, Alexander, and moved to 165 Sim Lane in Pleasantview. Shortly before the start of The Sims 2 Bella went missing, having been abducted by aliens, and hasn't yet returned.
Bella is the daughter of Simis and Jocasta Bachelor, and is the younger sister of Michael Bachelor, who also makes an appearance in The Sims and can be found in the family bin. She later appears as a child in The Sims 3, where she grew up in a large home in Sunset Valley just down the road from her future husband, Mortimer.
Bella and her family return in The Sims 4, albeit in an alternate timeline, where they live at Ophelia Villa in Willow Creek.
Biography
[
]
Life leading up to The Sims 3
[
]
In The Sims 3, Bella starts as a child (7 days to teen) who lives with her mother, Jocasta Bachelor, father, Simis Bachelor, and older brother, Michael Bachelor. Because she is still a child, she goes by her maiden name of Bachelor. She wears a red dress because this is her favorite color. Oddly, she has hazel eyes, even though she has brown eyes in The Sims and The Sims 2. When she grows up, she looks different from the adult versions of her from The Sims and The Sims 2; her lips are thinner and her eyes are much bigger. Bella and Mortimer Goth are best friends. Her traits are good, brave and lucky. She attends elementary school and is a good student. She is also slightly gothic, which is evidenced by her room and playroom being decorated with skulls, which may hint at why she married Mortimer, and also at her interest in the paranormal. She has one point of the painting skill. There is sometimes a glitch where her thumbnail, picture in relationship panels, and picture in wishes appear with her as a child, similar to Mortimer Goth. Bella has a good relationship with her family. She is said to be 'well-behaved' and the best dressed girl around.
Worlds in The Sims 3 are believed to be placed in different parts of the main timeline, and it has since been confirmed by SimGuruSarah that the Bella Goth in Lunar Lakes graveyard is the same Bella from Pleasantview and Strangetown.[1] Thus by the time of Lunar Lakes, Bella is dead. Her appearance (with her yellow hair, gaunt face and greenish skin) is very different in this town than in previous towns, but it is in line with other deceased Sims buried in the Lunar Lakes cemetery. How or when she got to Lunar Lakes remains unconfirmed, as is whether or not she ever reunited with her family after her alien abduction. However, a message from travelling with the Dance sphere, Time machine when going to the future or the Galaxa Space Car confirms that she became the new empress of the aliens when she lived on the planet. How and why she ended up with her new zombie-like appearance remains unknown, though it may only be a side effect when she died.
Life leading up to The Sims Bustin' Out
[
]
In The Sims Bustin' Out, Bella Goth lives with her husband Mortimer Goth in Goth Manor. Her daughter Cassandra Goth may or may not have been born yet. She works as a Horror Movie Extra in the Movie Star Career and likes to play the piano and read when she's not working. Her favorite interactions are telling stories and nagging about friends. She has a completely different personality in this game than in the others. Her dress appears to be of a different design, her skin is much lighter, and her hair is a reddish-brown.
Life leading up to The Sims
[
]
Bella Goth, her husband, Mortimer Goth, and her daughter, Cassandra Goth, are first introduced in The Sims. She is an elegant, yet athletic, woman who seems to enjoy playing golf. Her activities when played will either be painting or playing the piano, which gives credibility to the theory that she may also be a very creative and talented person. She wears her trademark red dress, and has black (or very dark brown) hair worn at medium length.
She is unemployed at the start of the game and, just like her husband, has no skill points in anything. She has an extremely good relationship with Mortimer, with the two starting at a mutual 100/100 relationship level. She is also friends with her daughter Cassandra, but does not know any other Sims in the neighborhood.
Since there are no familial relationships in The Sims, she has no relation to her brother Michael Bachelor, nor do any in-game lore even indicate the two are related, although they do share a similar facial structure, hair color and skin color.
Life leading up to The Sims (console)
[
]
Bella Goth appears in The Sims (console) version with her husband Mortimer Goth and daughter Cassandra Goth living in 5 Sim Avenue. She still wears the same red dress and shoes, and has black hair. She shares a 90+ relationship with her husband and a 20+ relationship with her daughter. She likes to read, play chess, feed fish and mourn at the tombstones. Her brother Michael Bachelor is in the Family Bin as a playable character. However, their relationship is not stated, and Michael remains a separate character from her line of the family. Oddly, in this game and The Sims Bustin' Out, Bella has brown hair, though in all other appearances in the series, Bella has black hair (which is genetic as proved in The Sims 2), implying that she dyed her hair in those games.
Life leading up to The Sims 2
[
]
By the time the storyline has caught up to The Sims 2, Bella has had another child, Alexander Goth, and has disappeared via alien abduction. It is then also revealed that Bella is Michael Bachelor's sister. She does exist in Pleasantview, but is hidden within the game code and can only be found using cheats or third-party programs. Bella's disappearance is a major component to the background story of Pleasantview and it's theorized that Maxis picked her for this major role because she is a mysterious, yet elegant, woman. Her last known whereabouts are Don Lothario's deck, and Don's photo album and memory panel show that he had attempted some romantic interactions with Bella, which she didn't accept, before she mysteriously disappeared. Many of Mortimer's, Cassandra's, and Alexander's memories involve Bella, meaning that she hasn't been gone for too long. On the family tree panel, Bella's face is not grey, which indicates that the game does not consider her to be dead. Although her husband and daughter have memories of her being abducted by aliens, the story does not explicitly state what happened to Bella. Oddly enough, most of the furniture was left untouched after she left. If a Sim uses the fingerprint scanner, much of the furniture was touched by her. Maxis created a likeness of Bella and used it as a townie in Strangetown. This version is a little different than the Pleasantview Bella, but is acknowledged by Maxis as the same Bella. The fact that the Bella in Strangetown has no memories of her loved ones or past life is simply blamed on alien experiments during her abduction. Strangetown Bella's career is randomized at the start of the game, whereas the Pleasantview Bella, if brought back, has no personality points, career and no premade memories, and she cannot be played without the use of hacks such as SimPE. Another odd detail is that, if Bella is brought back, Mortimer's relationship with her will be that of acquaintances rather than spouses. The reason for this is because the developers did not set the correct relationship flags. Confusingly, Bella is actually very shy due to the limit of her personality points and has little interest in fashion, contrary to how the game describes her. Players can adjust this with cheats to fix her personality.
Relationship flags such as Crush, Love, and Married are normally unset when a Sim dies, and reset when that Sim is resurrected. It may simply be that the methods needed to bring Bella back do not reset these flags, or that they were not set when Maxis created Bella and Mortimer for The Sims 2.
Some players prefer to play the Bella Goth in Strangetown and consider her to be the real Bella because she has no connection to Pleasantview and is not tied to the Goth and Bachelor family trees, which lends credence to the theory that the alien experiments left her mind wiped. A further area worth looking into is the cinematic when Alexander Goth goes off to university. If Mortimer is already deceased, the scene that the player sees before they enter the university features a regular Bella as Alexander's mother and she is sobbing about the loss of her son as he is grown up, but still remains missing afterwards. On The Sims 2 website, there is an interview[2] that explains her disappearance, saying that she is the same person as Strangetown Bella Goth. Another odd fact is that she is seen looking through a small telescope on Don Lothario's deck, even though it is impossible to get abducted through this telescope in normal gameplay. This might be a mistake overlooked by the creators to show good story-telling pictures for the neighborhood.
Life leading up to The Sims 2 (PSP)
[
]
By the time the storyline has caught up to the PSP game, Bella is hiding from aliens in Strangetown. According to Mambo Loa, Bella is not good at keeping secrets. She is looking to sell her home (the Espiritu Estate) which she despises a lot because it is haunted by three scary ghosts (Emily Emory, Nervous Subject, and Dennis Philips, one of Hazel Dente's previous husbands). She sells her home for all the money that the player has.
Bella's secrets from The Sims 2 (PSP):
(Personal): Bella married for money... but stayed for free premium cable!
(Intimate): Bella never REALLY loved Mortimer... she married him for his money.
(Dark): Bella knows Kung Fu. A man named Kung Fu. He does all her landscaping. Nice guy.
(Bella's Alien Secret): Bella is running away because she was abducted by aliens!
Life leading up to The Sims Social
[
]
Bella first appeared in a short interview promotion for the Facebook app The Sims Social. The interview confirms her abduction from The Sims 2. 'Ask the developer' thread in The Sims Social forum also stated it.[3] Bella had in fact mysteriously reappeared in Littlehaven, a new city where Bella lived, set after The Sims 2 and Strangetown events, and it was her helpful neighbor Buddy who had found her. It appeared she had absolutely no memory of what had happened to her since the night of her abduction—a whole chunk of her life was missing. As friends and family told her of how she had disappeared, Bella was determined to get answers and set off in search of the UFOs—and her memories, in which she was good at it, too. Bella uncovered and met many aliens, mastering detective skills that Foxy Boulder would have been proud of. But alas, though she had successfully interviewed many aliens, they were not the ones who had abducted her. Each visitor pointed to another, and Bella followed the leads for many months.
Eventually, after becoming exhausted following rumors and gossip, she settled for hypnotherapy in order to rediscover the hidden mysteries of her mind. Apart from uncovering numerous past life experiences, Bella did manage to recover her memories of the abduction. Pleased with the success of the therapy, she diligently wrote down in her journal for safekeeping—should she be abducted again and be made to forget. She plans to publish her notes someday, though she hasn't announced any dates.
Bella may secretly hope to meet her UFOs acquaintances someday, but has since made peace with the fact that she's made lots of new friends in Littlehaven.
She likes Chinese food (especially sweet and sour), would like to be a Fashion Buyer or a Mystery Customer for luxury spa resorts, and would like to visit The Eiffel Tower and The Taj Mahal. Her personality is socialite, and her career is chef. In the game, she is the tutorial Sim and the first neighbor the players' Sim meets. She is single and lives alone. She wears her signature red dress, red shoes, long black hair and has tan skin. The limit relationship with Bella is friendship; the player cannot become good friends or best friends with her nor fall in love or go steady with her. However, the player can perform romantic interactions with her.
Life leading up to The Sims Mobile
[
]
In The Sims Mobile, Bella appears in this game to help the player to perform various tasks as part of the tutorial. It is possible to build a relationship with her. After the tutorial, she is just a normal townie. She also has her natural black hair.
This section is in need of additional information. You can help The Sims Wiki by expanding this section.
Life leading up to The Sims 4
[
]
Prior to the game's release, Bella appeared in a number of promotional materials, beginning with an Easter Egg in the first official trailer. She and Mortimer were later included as renders and in The Sims 4: Create A Sim Official Gameplay trailer, looking slightly different than in the final release.
In the game, Bella lives in Willow Creek in the Ophelia Villa with her husband, Mortimer, and their two children, Cassandra and Alexander. This version of Bella Goth has been officially confirmed as existing in an alternate timeline to those seen in previous installments of the series.
The Sims 4 version of Bella is a young adult, 24 days away from becoming an adult. She has the Party Animal aspiration and works in the secret agent career as an intelligence researcher, and has two skill points each in charisma, fitness, and programming. She is friends with her daughter and son, and sweethearts with Mortimer. She has no relationships outside of her household when first played. Bella and her family were given an official makeover shortly after the release of patch 129 of the base game.[4] The original base game Goth family, including Bella, is still available in-game from Maxis' official Gallery page.
In the trailer, Bella is shown to have three traits, which are romantic, outgoing, and active. She's also shown to have an aspiration of Friend to the World, and a gregarious benefit. This version of her can be downloaded from the Gallery, by SimGuruJill. The in-game version of her, however, has slightly different traits and aspiration: She is good, family-oriented and romantic, and has the Party Animal aspiration, but still has the gregarious benefit.
Simology
[
]
The Sims Bustin' Out (console)
The Sims 2
The Sims 4
The Sims
The Sims (console)
The Sims Bustin' Out (console)
The Sims 3
The Sims 4
The Sims
Personality

Cancer

Sloppy
Neat
Shy
Outgoing
Lazy
Active
Serious
Playful
Grouchy
Nice
The Sims Bustin' Out (console)
Personality

Cancer

Sloppy
Neat
Shy
Outgoing
Lazy
Active
Serious
Playful
Grouchy
Nice
The Sims 2
Personality

Cancer

Sloppy
Neat
Shy
Outgoing
Lazy
Active
Serious
Playful
Grouchy
Nice
Reuniting the Goths
[
]
A few people around the Internet have suggested many ways in order to get the Pleasantview Bella back. One way is to use the boolProp testingcheatsenabled and spawn the Tombstone of Life and Death to add Bella to the Goth family. Another is to use the inSimenator to summon Bella, improve her relationship to Mortimer, and set her as his spouse and resurrect her. However, she has the I Am Dead Token which will cause her to die. This can be removed using SimPE.
When using boolProp testingcheatsenabled, Bella will be fine on the lot, but if the player leaves the lot and then return, the game will show her as having a ghost texture. The player will be able to control her for around a minute, and then she will disappear. After this, a message will appear saying 'Bella has died on another lot.'
Befriending the Bella Goth in Strangetown and moving her into a lot and then making her find her own place is a way to play Bella Goth, but only in Strangetown. Moving the lot to the Lots and Houses bin and then moving her into Pleasantview will cause problems in both neighborhoods.
In other games
[
]
Her Bustin' Out biography states: Her name in Italian means "beautiful" and it fits her better than her red leather corset. Descended from a long line of occultists, mystics and decadents, she has thrown convention to the wind. Her disdain for the pedestrian and normal is only matched by her sense of ennui and isolation. She distracts herself from this world with a little organ practice and exotic gardenings of the lethal variety.
Bella Goth is perhaps one of the most well known Sims. She appeared in The Sims Bustin' Out along with her husband Mortimer, she was in the TV family in The Sims 2 for Game Boy Advance, she appeared in The Sims 2 for PlayStation Portable, and she appeared in SimCity 4. According to her quotes in SimGolf (which she made an appearance as the download-able golfer, along with her family), she is very nice, an excellent neighbor, a little vain, compares bad things to Mortimer's foul moods and compares her family members to her shots (such as a Bella shot is too easy, a Mortimer shot is too difficult, and a Cassandra shot is impossible). She was also regularly featured on the cover for The Sims and its expansions.
Easter eggs
[
]
There are many Easter eggs involving Bella Goth. Here is a list so far:
The Sims
[
]
Two Men, A Woman, and One Monkey: Bella, along with her husband Mortimer Goth, neighbor Bob Newbie and a monkey starred in the aforementioned show according to a poster in The Sims: Superstar. "In this hilarious and light-hearted TV series, two men, a woman, and one monkey were randomly picked from a pool of contestants to share a house for one month. Follow them through the good times and the hard times as they try to live their lives with their new house-mates."
The Sims 2
[
]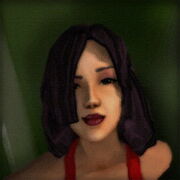 Bella Squared: Bella Squared is a portrait of Bella Goth that can be hung in a Sims' houses for §1,000.
Marketing Print by Seph Eia: If the player has the highest graphic quality set (allowing them to see portraits clearly), they will see that the last two portraits in the marketing print are of Bella Goth.
Pianist: On SimStation Dance, some people say the pianist in the R&B song music video is Bella Goth. This woman has the same skin tone and hairstyle as Bella, but her facial structure is different, she wears glasses, and her dress is a red version of Marisa Bendett's dress.
Milk: A "missing persons" photo of Bella Goth can be seen on the milk carton when Sims make cereal in The Sims 2. In The Sims 3, this is the Tragic Clown.
Hot Air Balloon: A little graphic that looks a lot like Bella Goth can be seen inside of the hot air balloon's basket with DreamBoat. Some people say that the Sims in question are Don and Blonde Bombshell.
Belladonna Cove Statue: Easily the most conspicuous Easter egg, there is a very tall, golden statue of Bella holding a platinum plumbbob that ships with the The Sims 2: Apartment Life expansion pack.
Broken Bella and Mortimer snow globe: One of the many hidden files found and posted on ModTheSims.

Fireplace: In the Goth family album, there is a picture of Cassandra and a modern looking fireplace. In another picture, the player can see Don kissing Cassandra, but the fireplace is changed to the most expensive one. Looking at the textures of the modern looking fireplace, there is a picture of Bella.
Music: There is a song under the Jazz section on the radio titled "Good Evening Bella".
Photograph: When blackmailing another Sim, there is a very pixelated image of a figure wearing a red corset.
Old Age: When a Sim dies of old age, a Hula Zombie will appear with the Grim Reaper. It looks like Bella Goth.
Bella Squared Record: If you look at the DJ booth, on the left-hand side where there are a stack of records arranged horizontally in a cage, rearrange the camera so it is looking at the one facing out from the booth, it will be a picture of the Bella Squared painting.
Prestidigitator: In the entertainment career track, the 10th level job's description says something about making Bella appear in smoke.
Game Designer: In the gamer career at level 10, the chance card refers to designing a game in which a couple is to be broken up. The choices are between having one member be abducted by aliens, or thinking of something else. If the player chooses the first option and gets a positive outcome, the text alludes to the Bella-was-abducted storyline, and the commercial success of The Sims 2.
Also in The Sims 2 Castaway for Nintendo DS, if the player builds the best house it will say "Only the Bella Goths of the island live here"
Fridge: There is a fridge in The Sims 2 (PSP) that is called The Chow Bella Fridge (although this can also be a reference to the Italian phrase "Ciao Bella"). There's also a fridge in The Sims 2 (console) that is called Chow Bella Bachelor Fridge.
Custom Painting: When player paints a custom painting, there are premade paintings of Bella Goth and the Goth Manor shipped with The Sims 2: FreeTime. These premade paintings have ideal size for Architecture Drafting Table.
The Sims 3
[
]
Cover: Bella appears on the cover of The Sims 3.
Book: A book called "Where's Bella?" in the Sim's bookcase. A common theory is that this is The Sims equivalent of "Where's Waldo?" (or, in the UK, "Where's Wally?") There is also a book titled "Murder in Pleasantview" by Alexander Goth (though it could not be the as-yet-unborn Alexander from The Sims 2 unless time travel is involved), which could hint at an explanation of Bella's disappearance between The Sims and The Sims 2, given that alien abduction is not present in The Sims 3 base game.
Collectibles: Sims can collect space rocks called "Unusual Bellacite" after analyzing them.
Bookcase: There is a picture on the bookcase of what appears to be Bella from The Sims 2.
Already Retro CD Display Shelving: On top of the CD display shelves, there is a movie with a picture of Bella from The Sims 1.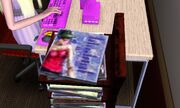 Donation: If a Sim has the Good trait, one of the charities they can donate to is Bella Beneficiary.
Private Investigator: If a Sim is snooping for clues, they will remark, "This reminds me of when Bella went missing... I need to keep looking." However, since the game is set 50 years before the adult Bella disappeared, this makes little sense unless it's a reference to "Where's Bella?"
Sketch: When a Sim is sketching at the drafting table, they can sketch a black-and-white picture of Bella from The Sims 2, in her signature gown.
Painting: When a Sim paints a small painting, one possible picture they can create is of Bella, wearing her signature red dress and with her back turned, near Cassandra, who is in the white shirt and blue pants she wears in The Sims. They appear to be among gravestones (which makes sense for the Goth family), although it is hard to be sure because the picture is painted and texturized. A large painting, which is the one above Mortimer's bed in The Sims 2, can also be painted. Another large painting includes a couple on a balcony, The man wears a suit and the woman wears an elegant red dress, which indicates that they could be Mortimer and Bella.
Wallpaper: There's a wallpaper called "Bella Gothic Wallpaper" in The Sims 3: Generations.
Gravestone in Lunar Lakes: In the downloadable town, Lunar Lakes, there is a gravestone of Bella Goth on it. This version of Bella died of old age and can be resurrected. However, once resurrected, she looks somewhat different from the Sunset Valley Bella, with a zombie-like appearance (just like every other dead sim in Lunar Lakes).
PlasmaPunch Gyroscopic Conductor—Dimensional Gate Upgrade: When adventuring using the dimensional gate on PlasmaPunch Gyroscopic Conductor, Sims might encounter the following message:
After a while of travelling through a stone dungeon, (Sim name) comes upon a giant green gem statue of Empress Bella Goth sitting atop a golden throne. At its base are a series of symbols that (Sim name) has never seen before. Upon further inspection, (Sim name) notices that inside the statue there is a key to the only door in the room. The only way out is to recover that key.
Furthermore, the players might receive the following messages randomly as the adventure progresses:
While sneaking through a ruined city, (Sim name) nearly walked into a group of aliens. Standing just out of view (Sim name) watched as they bowed before a mysterious looking Sim and chanted "Bella" in hushed monotone voices.
At the end of his / her journey, (Sim name) found himself / herself in a crystal and gem paradise where he / she saw a fleeting reflection of Bella Goth as the dimensional gate faded away. That last glimpse that (Sim name) saw will always remind him / her that Bella is still out there...somewhere.
Blackfyre Gothic Backdrop: A large prop in The Sims 3: Showtime is described to be a backdrop based on Bella's nightmares.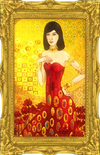 Golden Woman of Prosperity: In 2009, The Sims 3 Store released a limited edition painting in a collection called "In Dawn of the Sims". The painting pictures Bella in the style of Gustav Klimt's "Woman in Gold". The description is "If diamonds are a girl's best friend, then gold must be a girl's best acquaintance. This painting exudes such gold richness, you may consider going to a gold trading website and exchange the painting for cash."
Double Frame Photo: Holds a photo of two different Sims from The Sims 2; one is Bella and other is a blonde male child.
The Sims Medieval
[
]
If the player scries far enough into the future, it'll say "There is a women in a red dress, opps [sic?] , someone just peed themselves nearby" or similar.
The Sims 4
[
]
Piano: In the Romantic and Classical menus (from Play Song...), there is a song named 'For Bella'. This could be any Bella, but as Bella Goth is probably the best known Bella in the whole of The Sims series, this probably points towards her. It may also be a reference to the famous composition "Für Elise" (For Elise) composed by Ludwig van Beethoven.
Trivia
[
]
Bella Goth, along with Mortimer Goth, Bob Newbie, Betty Newbie, Daniel Pleasant, The Grim Reaper and Agnes Crumplebottom are the only pre-made Sims to appear in all four of the main series games.
The Sims 3 is the only game to have her last name as Bachelor as opposed to Goth in the other games since Sunset Valley was set before The Sims. It is also the only game where she doesn't live with Mortimer as well as being a child whereas in other games, she's an adult[

TS

][

TSC

][

TS:BO

][

TS2

] or a young adult[

TS4

].

It is possible to change her last name back to Goth through the city hall, brain enhancing machine[

TS3:UL

], or by having Mortimer propose to her when they are older.

Bella's secret in The Sims 2 for PSP states that she doesn't really love Mortimer and only married him for his money.[5] There is some debate as to whether this is true in the main series canon: certainly, Bella has no romantic attachment to Mortimer in The Sims 2 or The Sims 3, since in the latter case she is a child and too young to have romantic relationships, and in the former case she is a hidden character for story purposes and has no relationship values with her family. However, Bella is married to and in love with Mortimer in The Sims and The Sims 4.
In The Sims 2, when opening her Sim DNA, the page will appear blank.
According to SimPE, she is 29 days from being an elder in The Sims 2. Though it seems to be implied in The Sims 2 and The Sims 4 that Bella is much younger than Mortimer contrary to The Sims 3 timeline where they are the same age,[6] she should be closer to becoming an elder at the start of the game. This may be because Bella was never intended to be playable, so they never bothered to set her age.

This makes her younger than her daughter Cassandra, who is 26 days from becoming an elder.
Conversely, her Strangetown equivalent is 28 days from becoming an elder.

Bella is arguably one of the most recognizable sims in the series. Due to this, there appears to be another sim based off of her, Stella Roth.
Even though Bella is thin in The Sims 2, her fitness bar indicates that she is supposed to be fit.
According to her interview, Bella disappeared in the summer of 2004.[2]
Bella has never appeared as an elder by default in any of The Sims games.
Steer clear unless you like walking around in garbage and surrounded by weirdoes. I mean, if you like that, this might be the place to go. For me? No. - BellaNotBella (on Basketball Courts)
I once dated a guy living in one of the Culpepper apartments, and let's just say he wasn't the only rat I encountered there. - BellanotBella (on Culpepper Apartments)
I don't know what overcame Mortimer - perhaps the Guru's advice, or the fireworks, or just the mood, but he proposed on the spot and the festival was the most romantic night of my life. - BellanotBella (on Romance Festival)
Zenview is not just a clever name. Looking out those windows? Breathtaking. - Bellanotbella (on ZenView Heights)
I love how the city streets come alive with a less than serious side. Love to laugh? Don't miss this festival. - BellaNotBella (on Humor and Hijinks Festival)
Gallery
[
]
Other languages
[
]
Language
The Sims
The Sims 2
The Sims 3
The Sims 4
English
Bella Goth
Bella Goth
Bella Bachelor
Bella Goth
Brazilian Portuguese
Laura Caixão
Laura Caixão
Laura Solteirus
Laura Caixão
Chinese (Simplified)
贝拉 高斯
哥特贝拉
Chinese (Traditional)
貝拉 高斯
貝拉 巴奇勒
Czech
Bella Gothová
Bella Bakalářová
Bella Gothová
Danish
Bella Goth
Bella Spøgh
Bella Ungkarl
Bella Spøgh
Dutch
Cora van de Kerkhof
Cora van de Kerkhof
Cora Vrijevogel
Cora van de Kerkhof
European Portuguese
N/A
Bella Goth
Bella Solteirão
Finnish
Johanna Goottila
Johanna Goottila
Johanna Vapaala
Johanna Goottila
French
Sonia Gothik
Sonia Gothik
Sonia Galantome
Sonia Gothik
German
Julia von Spinnweb
Bella Grusel
Bella Junggesell
Bella Grusel
Greek
Bella Goth
Bella Bachelor
Hebrew
'בלה גות
'בלה גות
בלה בצ'לור
Hungarian
Bella Goth
Bella Bachelor
Italian
Daniela Alberghini
Daniela Alberghini
Daniela Bianco
Daniela Alberghini
Japanese
ベラ ゴシック派
(Bella Goshikku-ha)
ベラ ゴス
(Bella Goth)
ベラ バチェラー
(Bella Bachelor)
ベラ ゴス
(Bella Goth)
Korean
이 기자
벨라 고트
벨라 바첼러
벨라 고트
Norwegian
Bella Goth
Bella Bastiansen
Bella Goth
Polish
Majka Ćwir
Bella Ćwir
Bella Kawaler
Bella Ćwir
Russian
Bella Got
(Белла Гот)
Bella Got
(Белла Гот)
Bella Kholostyakki
(Белла Холостякки)
Bella Got
(Белла Гот)
Serbian
Bela Got
Bela Got
Bela Neženja
Bela Got
Spanish
Elvira Lápida
Elvira Lápida
Elvira De la Soledad
Elvira Lápida
Swedish
Bella Spökh
Bella Spökh
Bella Ungkarl
Bella Spökh
Thai
เบลล่า โกธ
เบลล่า โกธ
เบลล่า แบชาเลอร์
เบลล่า โกธ
Vietnamese
Beo-la Gót
Beo-la Gót
Beo-la Ba-che lờ
Beo-la Gót
References
[
]
See also
[
]
Featured Article
This article is a
Featured Article
. Its layout and content is an example of excellence on The Sims Wiki.
Dates featured: February 2009.