Bagley family

Description
The Bagley family business is just a wee bit on the wild side. Rhoda is following in her mother's footsteps, but Sherman seems to want a different path to travel.
Name
Bagley family
Members
Ma Bagley, Sherman Bagley, Rhoda Bagley
Number of generations
2 generations
Lot
680 Old Farm Road
Funds
§9,000
Difficulty level
Other information
Game
The Sims 3 Store
Playability
Playable
World
Riverview
The Bagley family lives in Riverview. It consists of a matriarch Ma, and her two children, Sherman and Rhoda. They appear to be a long line of criminals (hinted by their surname and traits), and all their riches come from stolen objects. Ma is a retired Master Thief, while her daughter Rhoda is working her way up the Criminal career track. They also have a barn full of stolen objects.
Onomatology
Bagley: Meaning in bagging.
Ma: Slang for mother or mom.
Sherman: Possibly referencing Shear-men.
Rhoda: Another word for a type of sword fight.
Sam: God's hand or meaning in a different conjunction, loyal.
Family tree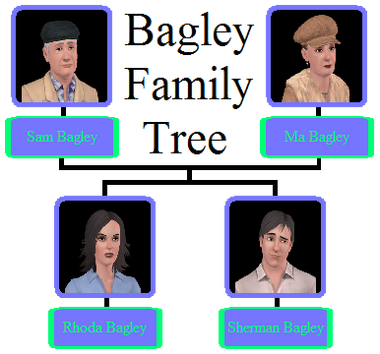 Members
Gallery
Community content is available under
CC-BY-SA
unless otherwise noted.