Atkins family

Description
The Atkins twins have observed the comings and goings of the city for a few decades. With everything changing so quickly, Violet's grandson Jett is their only link to the youthful city it has become.
Name
Atkins family
Members
Violet Atkins, Hyacinth Atkins, Jett Atkins
Number of generations
3 generations
Family connections
Cook family
Lot
1101 Bayshore Highway
Funds
§3,000
Difficulty level
Other information
Game
The Sims 3: Late Night
Playability
Playable
World
Bridgeport
The Atkins household are a pre-made family residing in Bridgeport. The family consists of two twin sisters, Hyacinth Atkins and Violet Atkins. Violet has a townie son named Ryan Atkins and grandson named Jett Atkins who lives with them in a small Penthouse.
Hyacinth also has a daughter living with the Cook family, as an esteticist. Curiously, Hyacinth and Violet share most of their features, their preferences, clothes, traits, facial and body features. They are almost identical, though slightly different.
Family tree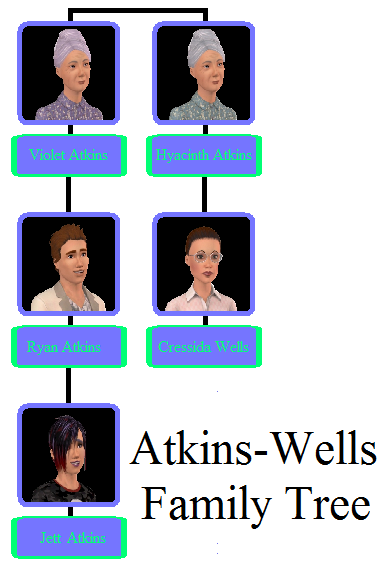 Trivia
Violet and Hyacinth are named after two sisters from the British Sitcom, Keeping Up Appearances.
There is a pre-made Sim from Sims University named Esther Atkins, and her relation to the family is unknown.
Community content is available under
CC-BY-SA
unless otherwise noted.