Line 1:
Line 1:
 

{{Sim3

 

{{Sim3

 

|game = The Sims 3: Ambitions

 

|game = The Sims 3: Ambitions

−

|image = [[File:AnneT.Septik.jpg|256px]]

+

|image = [[File:..|]]

 

|sex = Female

 

|sex = Female

 

|parents = Unknown

 

|parents = Unknown

Line 33:
Line 33:
 
 
 

*Unlike most maids her work outfit is different; she wears big socks and sunglasses, as well as the typical French outfit.

 

*Unlike most maids her work outfit is different; she wears big socks and sunglasses, as well as the typical French outfit.

 
+
 
+

[[File:AnneT.Septik.jpg|256px]]

 

[[Category:Maids]]

 

[[Category:Maids]]

 

[[Category:Sims with long hair]]

 

[[Category:Sims with long hair]]
---
Revision as of 19:30, 31 December 2010
Anne T. Septik

Name
Anne T. Septik
Gender
Female
Age
Adult
Life state
Sim
Family
Parents
Unknown
Sibling(s)
None
Romances
None
Marital status
Single
Child(ren)
None
Lifetime wish

| | |
| --- | --- |
| | Star News Anchor |
Favorites

 Electronica

 Fish & Chips

 Orange
Appearance
Hair color
 Brown
Skin color
 Light
Body shape
 Thin
Anne T. Septik is one of the premade maids from in Twinbrook The Sims 3: Ambitions. Like all premade NPCs, she has no relations in her family tree and she is single. She also has no relationships with the neighbors, probably because she was not hired by anyone. Anne is very different from other maids in Riverview and Sunset Valley, having five traits which are great kisser, flirty, artistic, eco-friendly and neat, while most of the maids in the game have four traits which are the charismatic, kleptomaniac, neat and brave traits.
Trivia
Her name is a pun on antiseptic (an-tee-sep-tic), which means something that reduces the possibility of infection.
Unlike most maids her work outfit is different; she wears big socks and sunglasses, as well as the typical French outfit.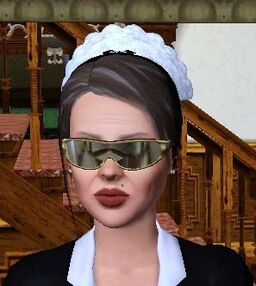 Community content is available under
CC-BY-SA
unless otherwise noted.